Violeta Dabija
Children's Illustrator
How and why did you decide to pursue illustration as your career?
Becoming an illustrator happened very organically for me, almost as if illustration chose me, not the other way. I started my art studies(art school) when I was 12 years old and then went to the Art University/Fine Arts/Graphic Design. Being a student in the 4th year I decided to take a part-time job as a children's book illustrator at a major local publishing house. During my many years of art studies I painted countless nudes, landscapes and still life in endless techniques, but somehow I missed the experience of drawing animals and kids, which is necessary if you are a book illustrator. I always thought that if a thing's worth doing, it's worth doing well, so I practiced and practiced and I got hooked. That's how I fell in love with book illustration. Those 5 years were instrumental in my formation as an illustrator. I learned a lot about how to work under pressure and how to meet deadlines but I was fortunate to be part of a great team of illustrators and had the best art director who was also one of my university art teachers, so those 5 years felt like a continuation of my studies and were a natural transition to my children's illustration lifetime career. After five years of full employment and a couple of dozen published books I decided to test my skills on the international market and I went freelance. It was exciting and frightening at the same time as the biggest obstacles were in my head. With so many great illustrators out there I doubted I really have something unique and unprecedentedly to offer. It took me some time to find the courage to send my portfolio to multiple publishers and agents. I was most fortunate to have my then-boyfriend-now-husband keep telling me "you'll make it, you'll see!", and he was right. I got a great illustration agency to represent me and opportunities to illustrate many wonderful books for clients all over the world. Over the years my books were published in 5 countries, translated in 9 languages, published in 5 countries, received many awards and most importantly - reached countless young readers and hopefully helped nourish their love for books and art.
Did you attend art school or undertake any other formal artistic training?
I have a strong art background: 7 years of art school and 5 years of University of Art with a BA degree in Fine Arts/Graphic Design.
Where do you currently live and where did you grow up?
I was born and lived most of my life in Moldova, it is a very small but beautiful East European fairy tale-like country - this explains why most probably you never heard about it :) Three years ago we moved to the Bay Area. We live in a small but cozy apartment with a cute patio with the prettiest lemon tree. Being a plant lover I quickly filled the space with plants. California is a paradise for the plants: for someone coming from an Eastern European country with long cold winters it is surreal to see the flowers blooming all year round, pick up lemons in January and enjoy the hummingbirds all the time…
Was creativity part of your childhood?
I started drawing when I was very young. My father didn't have art studies but he was very artistic, he loved to paint, and he taught me everything he knew. One of my earliest memories is him teaching me how to paint an apple in watercolor, achieving that transition between the yellow and red parts was not an easy job... Later I went to Art School but during the summer vacations I was roaming the hills on the back seat of my father's motorcycle searching for the perfect landscape to paint. While I was painting he would carve willow whistles, pick up walnuts or wildflowers for me… he was the best dad, I miss him.
Describe your working technique and how you came to perfect it.
My method is very simple but it took me some years and a couple dozen books to get to it. In my first books I experimented with many techniques like gouache, colored pencils, watercolor, oil, digital ... but none of them fully allowed me to get the desired atmosphere in my work. So I started mixing them and it worked. I love the delicate traditional feel and texture of the watercolor on paper. On the other hand, the computer is a wonderful tool with endless possibilities when it comes to experimenting with color schemes. So I decided to take the best of both and it "clicked." I felt that's the way to go. Usually, I start with a detailed pencil sketch on paper. I scan it into Photoshop, put in on a separate layer (that is going to be hidden at the end) and then the fun begins. Working with textures and colors is my favorite part of the process. I have a library of scanned watercolor textures I use for my work. My digital files are a crazy mess of countless layers often exceeding 1 GB. I'm most interested in getting the right atmosphere in a painting and I find Photoshop the perfect creative tool. Its features allow me to try out as many ideas as I want, play with rich, lush colors and sophisticated color schemes and easily add little touches and details.
Do you keep a sketch book?
I tried several times but it never worked for me. I prefer using a clipboard and separate sheets of paper for my sketches.
Have you ever thought about trying out a different technique or a different style?
Rather than changing my style I am always looking to perfect it, and trying out different techniques is part of the process.
How long does it take on average for you to finish a spread, from initial sketch to final colour?
It depends very much on the complexity of the work, of course, but a full spread illustration usually takes around four days: one day for the sketches, two for the color and one more for revisions or finishing touches. When I start a project I usually create a timeframe to make sure I allow myself enough time for each illustration but also respect the deadlines.
What does a typical day in the studio look like for you?
I usually start my workday with a cup of tea or coffee while reading my emails. Then I visit my plants on my patio, I love checking them every morning for new leaves and flowers. Once there are no more important matters (or excuses) that require my attention, I turn on the music and start to work.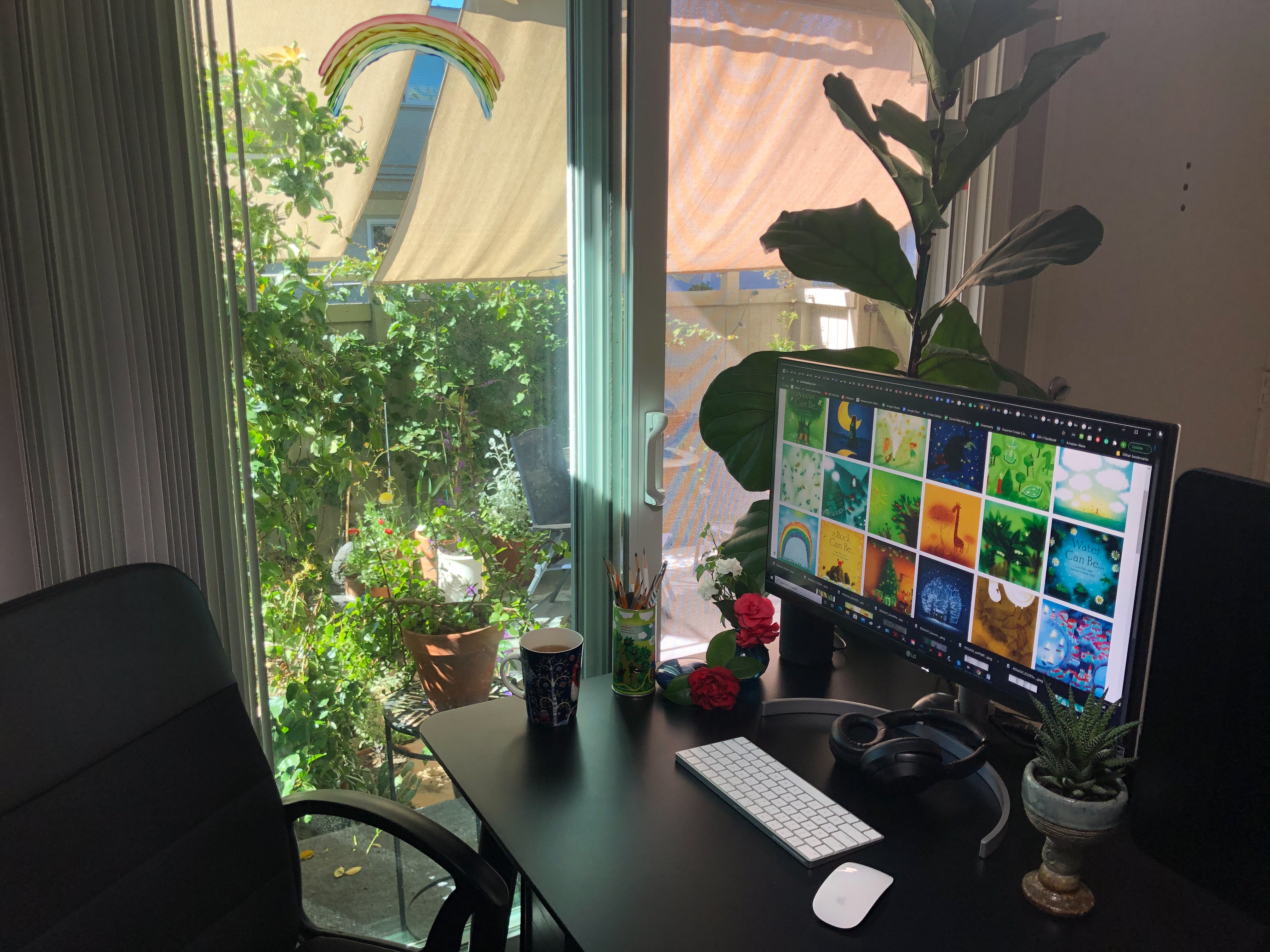 Take us behind the scenes and describe your studio / workspace.
My workspace is very green. Being surrounded by plants makes me feel good. I have my computer, a scanner and a drawing tablet. I also have some roomy shelves that keep all my art materials. On the top I keep the lego hearts my son creates for me every day. A good light source on top of my workspace and a big window on my side provide me good light and a nice view of my growing flowers outside and hummingbirds that visit us. Always some bud vases with pretty blooms on my table. It's not a big space but it's my happy space.
What would you say is a distinguishing feature of your artwork?
The watercolor texture.
Share your favourite piece of artwork from your portfolio and walk us through its creation.
My favorite illustration has a very interesting story behind it. It's a very old work, my first commission as a freelancer. After 5 years of being employed as a full-time children's book illustrator in a publishing house I decided to go freelance and test my skills on the international market. I knew very little about freelancing and its pitfalls and when I got contacted by a client asking me to illustrate the "The Twelve Months" folktale. I was over the moon and I made all the possible beginner's mistakes: no written contract, no upfront payment, no sketches approval, only pure enthusiasm :) When after two months of hard work I presented the client with the finished illustrations for the entire book they got rejected because the style wasn't "commercial" enough. That was a small tragedy to me of course but I learned a lot from my mistakes and funny, this illustration became my lucky illustration. It's one of my most popular works, it brought me the attention of many clients, it was featured on the cover of the Cricket magazine and it was published in the 07/08 Edition of "200 Best Illustrators Worldwide". I guess it was all for the best :)
Which 4 words would you use to describe your illustration portfolio?
Atmospheric, magical, vibrant, dreamy.
Do you have a favourite soundtrack you listen to when you're working?
I don't have one favorite soundtrack but I'm listening to music all the time while working, I create different mood playlists or collections of songs I like in a certain period. It really helps me to tune out the distractions and get into a creative mood.
Which project are you most proud of?
While I appreciate and am grateful for every single project I had the opportunity to work on, the "Can Be ..." series holds a special place in my heart. I LOVE the idea behind the text and I was lucky to be given a lot of artistic freedom which allowed for more exploration, technique experimenting, style identifying and development. The result was some very personal illustrations that reflect my world, my passion for nature's colors and beauty. The books got numerous awards and great recognition. The collaboration with Laura Purdie Salas, the author of the "Can Be..." series, and Carol Hinz, Editorial Director of Millbrook Press and Carolrhoda Books, has been an amazing experience.
When you are not drawing, how do you like to relax?
I love growing plants. To me, each plant is a miracle. This year I planted my first roses, some beautiful David Austin English roses that I bought as bare roots, and seeing those ugly bare sticks transforming into the prettiest blooms in only a couple of months was nothing but a wonder to me! Nature is amazing!
If you weren't an illustrator, what would you be doing?
I've always been drawn to fashion design, and ceramics. I enjoy doing small craft projects, mosaic pots, knitting, tie-dyeing my own fabric using shibori techniques and sewing things. I am passionate about color and beauty in all their forms.
How do you overcome a creative block?
Creative blocks are extremely frustrating but they happen to all of us. Overcoming it is a very personal process. Something that works for me might not be that good for someone else and vice versa. Usually I just try harder to overcome it but it doesn't always work that way. Sometimes I just listen to my husband's advice, a former artist as well, and allow myself to pause working for a while. It can be 30 min of relaxing or switching for a couple of hours or a day to another project or another task that is not creative at all helps a lot.
What are some of your favourite subjects to draw?
My favorite subjects are nature and winter magic. I don't like the cold but I find the winter scenery one of nature's most beautiful creations. Snow falling, trees in snow, the sparkle, I never get tired of illustrating winter subjects, snow is magic to me.