Christian Garland
Children's Illustrator
How and why did you decide to pursue illustration as your career?
It's always been my lifelong passion.
Did you attend art school or undertake any other formal artistic training?
I studied animation at Bournemouth
Where do you currently live and where did you grow up?
I'm based in London and I grew up in Malvern
Was creativity part of your childhood?
Yes, a huge part, I was always drawing or sculpting models. I'd make comics and create FX for home made horror films with my friends. I was fortunate to meet the special FX team at Pinewood studios when I was ten and that was hugely inspiring.
Who or what have been some of your major artistic influences?
Growing up in the 80s I was influenced by the great film poster artists like Bob Peak, Drew Struzan then seeing Frank Frazetta's Conan book covers and 2000 AD and Mad comic artists. Then later I appreciated Marvel artists Like Buscema, Romita and Kirby alongside Rockwell, Rackham and Dulac. I love the work of John Singer Sargent, Ralph Steadman, Bruce Timm, Wally Wood, Ronald Searle, Robert McGinnis. I'm a big collector of art books since childhood and continue to add to my library.
Who or what has been your greatest mentor?
I've been fortunate to have some great teachers like Peter Parr at Bournemouth and then working with some really talented animators in my early career.
What was your first commission as a professional illustrator?
I did some indents for 4mations a channel 4 animation show in the early 90s.
What piece of software or hardware could you not live without and why?
Definitely Photoshop, I use it most days!
Do you keep a sketch book?
Yes, I think drawing and painting from life is really important.
Tell us about the creation of your favourite character from one of your books.
I recently illustrated a book about a boy who magically transforms into a huge wrestler The Big Chew by chewing some ancient bubblegum, designing him and a colourful cast of wrestlers was great fun.
Which project has been most instrumental in developing your personal style?
I'm always learning new techniques and approaches to illustration. I think starting out in animation was a great way to learn about getting down the essence of a character in a simplified way through expression and posing.
Talk us through the process of creating one of your latest illustrations or books.
I'll start by gathering reference then doing very rough sketches to find the character and composition. Then after agreeing with the client on a rough composition I will make a quick colour comp and then its into the painting.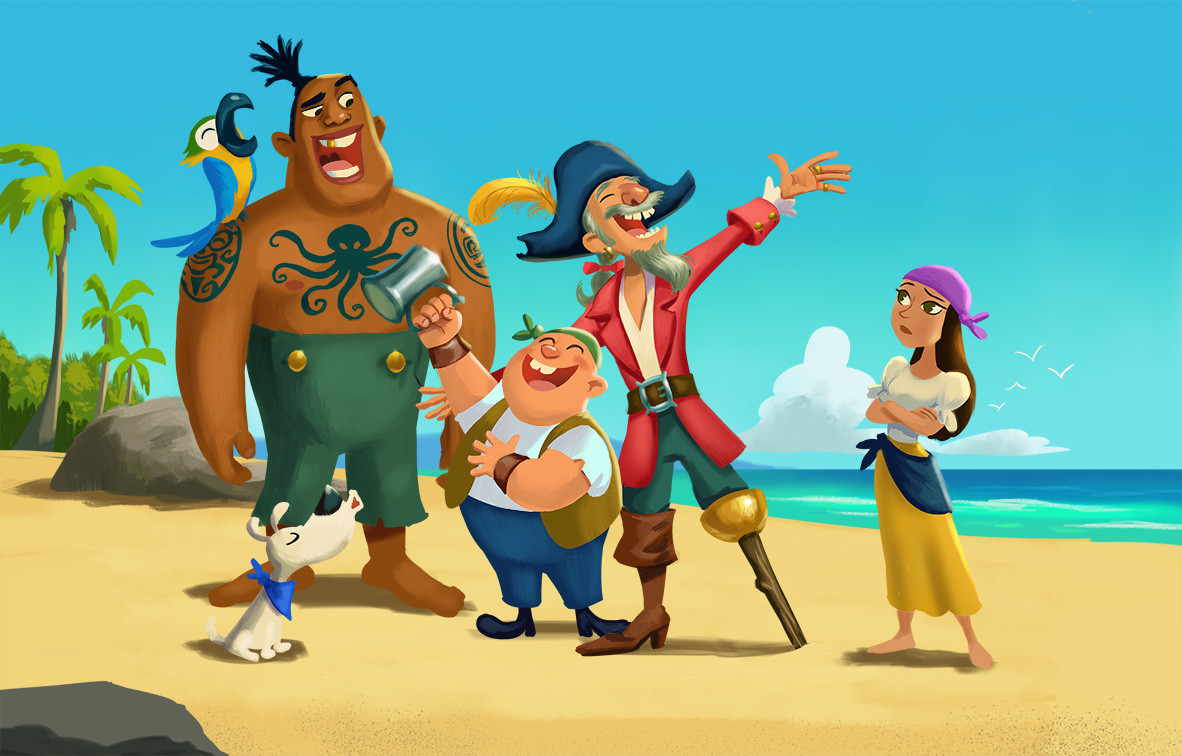 Do you offer more than one style, if so – talk us through the different approaches and the audience you are targeting for each.
I do yes, I like to work in various styles depending on what the project calls for from stylized cartoony to a more realistic look for a young adult audience. I like to use illustrator and photoshop and I'm currently experimenting combing these with more traditional media like watercolour and ink.
How long does it take on average for you to finish a spread, from initial sketch to final colour?
It depends on the project but between 4 days up to a couple of weeks.
What do you hope children take away from your drawings?
I hope they are engaged with the work, I hope they find it fun and humorous, perhaps even be inspired by it to do some drawing themselves!
What is your favourite children's book and why?
I love Roald Dahl's books in particular Matilda and Danny the champion of the world. He writes such wonderful characters.
Take us behind the scenes and describe your studio / workspace.
I have a loft studio, which is great. I work with a cinrtiq and a mac. I also have an easel set up for using traditional media.
What advice would you offer someone just starting out as a children's illustrator?
I think don't give up and practice, practice, practice. Have a broad range of influences, explore art galleries and draw from life. Try and analyze what it is that inspires you about an artists work.
How important is it for you to be part of a creative community of people?
I think it's really important to stay connected with the creative community. I am inspired by artists I know and love to get their feedback on my work. My work in the games industry helps me and pushes me to improve and discover new approaches.
If you weren't an illustrator, what would you be doing?
I don't know! I have been fortunate to make a living from something I am passionate about.
Are there any children's classics you'd love to illustrate and/or re-tell?
Working on any of Roald Dahl's stories would be a fun challenge.