Brooke Knight
Editor in Chief, Honest History
Tell us a bit about your background & how you came to start Honest History magazine.
I've loved writing since I was a kid and I've always had a passion for early education and history. The idea for Honest History was born out of a desire to combine these areas of my life—and when I researched available options for kids, I was disappointed at the lack of history resources that were creative, fun and inspiring. I decided then to create a brand that would provide these missing elements to kids across different forms of media.
What sets Honest History magazine apart from other titles on the market?
At the heart of our company is a notion that creativity and education can be combined to create compelling stories brought to life with original illustrations and great design. There are other titles on shelves that are creative and titles that lean more academic, but the way we combine these two elements creates a uniquely engaging magazine for kids. Our goal is to present a fact-based view of history that allows kids to make their own decisions on how they feel about the people, cultures, and events that shaped our world. Our magazine is meant to be a jumping-off point for kids, parents, and teachers to explore topics of interest and discover how history can be fun for everyone.
Design plays a large role in your magazine. How would you describe the styles of illustration you are interested in commissioning?
That's a great question! Each issue of the magazine has its own style and feel, but we love hand-drawn or painted illustrations that use primary colors. We also love working with illustrators from a variety of backgrounds who have a connection to the topic we are covering in any given issue.
What portfolio advice would you offer Childrensillustrators.com members looking to appeal to Honest History magazine?
Draw what you love! I have found that an artist's passion really comes through when they are drawing something that sparks joy. Draw in the style you love and draw the things that make you happy. We almost always choose illustrators whose personality comes through most in their work, regardless of whether they've drawn anything even closely related to the topic of an issue we're working on.
Select a recent feature to share with our audience explaining the creative process & what you particularly enjoyed about that artist collaboration.
We worked with illustrator Jordan Houston-Taylor for the feature story on Mansa Musa in Issue 13 (The Golden Rule) and I loved Jordan's enthusiasm. She was so willing to make changes and was really careful to represent Mansa Musa's image with historical accuracy. Jordan was great about asking clarifying questions and had terrific communication during the whole process, so it was a pleasure working with her and I can't wait to work with her in the future.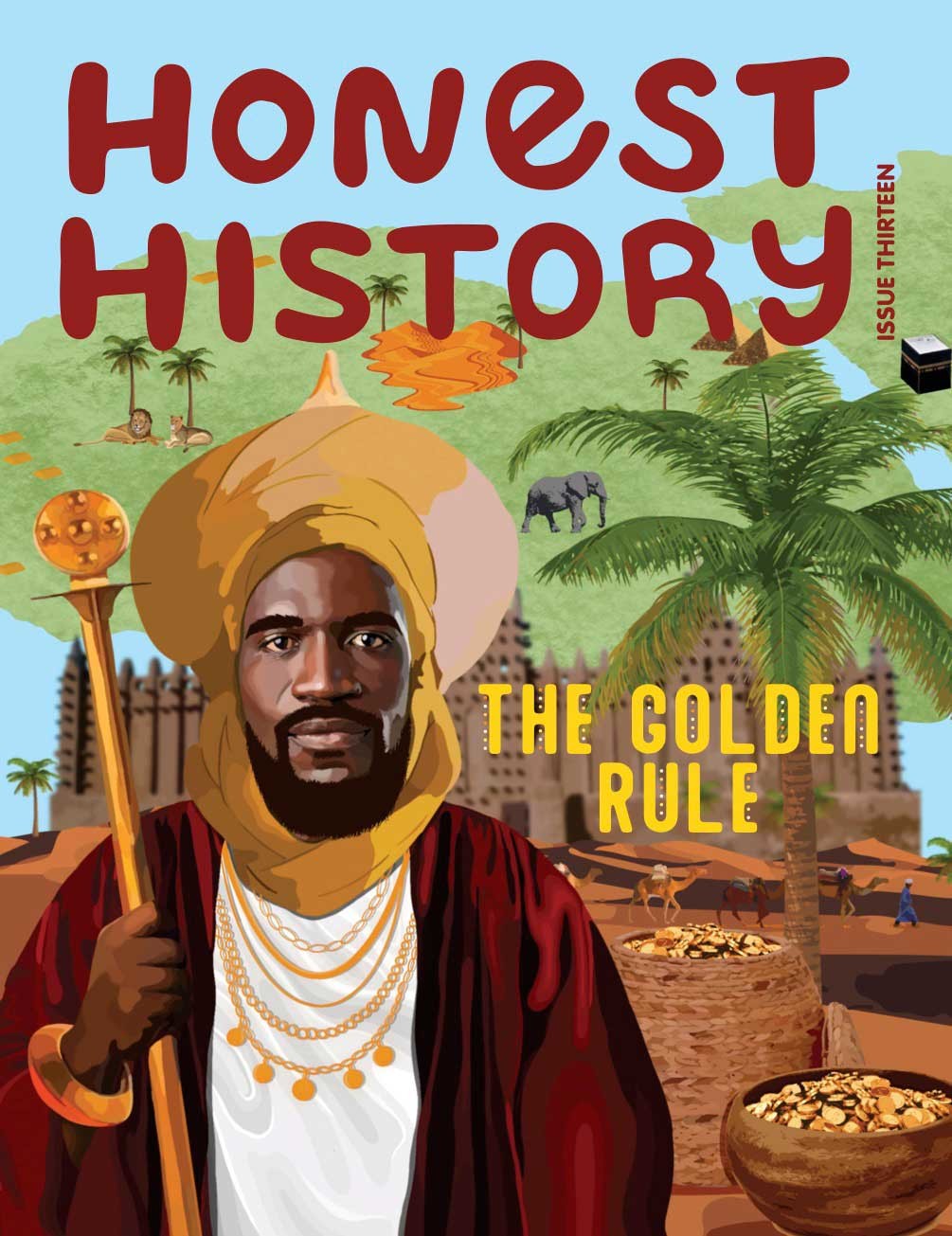 Which three covers are you most proud of and why?
This is such a tough one! I would say the Issue 7 (Into the Deep) cover by Cynthia Cliff is one of my favorites because it really shows what the magazine topic is about. Issue 9 (An Era of Exploration) is also very near and dear to my heart because it was hand-drawn by Nate Burbeck and it still amazes me every time I see it (there are so many tiny details he added that surprise me every time I look at it). The cover of issue Issue 11 (Journey Through the Jungle) is also a favorite of mine. Daniela Galliski did such an amazing job on the cover and I think she really understood the look and feel we were hoping for.
How do you determine each issue's theme and what's the best idea you've had from a young historian?
The whole team sends a list of ideas every few months and, using those lists, we collaborate and decide as a team which topics we are most excited about. The ideas usually are a mix of things our young historians have asked us to cover or topics that we feel need to be presented in a fun or different way. One of our most requested topics from young historians is to cover Native Americans and WWII, one of which, we will be coving for our spring issue in 2022.
Why do you believe giving children a glimpse into history is so important?
There is so much important, yet overlooked history. In school, we all learn about the same big people or events and the same stories and images are used again and again. We believe that giving kids a wider lens to view history will not only spark their interest but will teach them about the world they live in today. History is for everyone because every topic has a history. By giving kids the tools to think about the past and make their own decisions on how they feel about past events, we believe we are equipping the next generation of critical thinkers who can go out and make a positive impact on the world.
Which era in history are you personally most passionate about?
My love for history really ebbs and flows depending on what I'm reading. At the moment, I'm very interested in ancient world history and have been particularly fascinated by ancient Greece. My all-time favorite is definitely the early 20th century. I have a particular soft spot for the changes in literature during the Great War and how the wars affected writing during that time.
Share the best piece of feedback you've received from a reader.
A while back, we had two kids write in and thank us for covering the history of espionage in Issue 6, A Secret Mission. The kids wrote us a letter with a list of questions about how they can join the CIA. I wrote them back and we actually had a short back and forth correspondence with the kids asking some really thoughtful questions. It was so great to hear that a topic resonated with these kids and that they found the idea of having a career with the CIA so fascinating.