Anne-Marie Bourgeois
Children's Illustrator
Who or what made you want to become an illustrator?
My five siblings and I grew up surrounded by books. We all subscribed to so many children's magazines, that it was quite an event when the postal service came each day and filled our mailbox! I was fascinated by the variety of illustration styles. Most of these publications paid tribute to their authors and illustrators. This is how I figured that illustration was a job... a magic one, I thought! As of today, when I receive my copies of an album, magazine, book, anything at all that I have illustrated, the magic is still real.
Tell us about the creation of your favourite character from one of your books.
Delfouine is a curious and spirited little girl. When the publisher and I first brainstormed, they really wanted a character with long red curly hair. I made lots of sketches trying to please my client. I felt strongly that this fun young lady, looking like she cut her bangs herself, really wanted to exist. So I took a chance and submitted it to them. Thankfully, they fell in love with my Delfouine! Later on, the author sent me a picture of Delphine, her three-year old daughter who was the main inspiration for her story… the resemblance was just stunning!
What do you hope children take away from your drawings?
I love to hide fun little details in my illustrations that act as secret messages, rewards for the curious little reader who really observes and enjoys the images enough to find them. I was that kind of kid, examining motifs on wallpapers, fine details on clothes, textures and patterns, etc. There is a primitive form of reading we develop through imagery before we read with literacy. As an illustrator, I am so honored to have the privilege of being part of those early contacts with children and literature… I want it to be compelling!
Outline your dream project.
Drawing I spy images is what I prefer. My dream project would be to make an oversize book of whimsical worlds, crawling with unexpected details. I have had the opportunity to illustrate the I spy image section of Minimag, a quartely Canadian magazine, and it's always so much fun to do : if my sons happen to look over my shoulder while I'm working on it, they can't help laughing and making fun suggestions. They are the best art directors!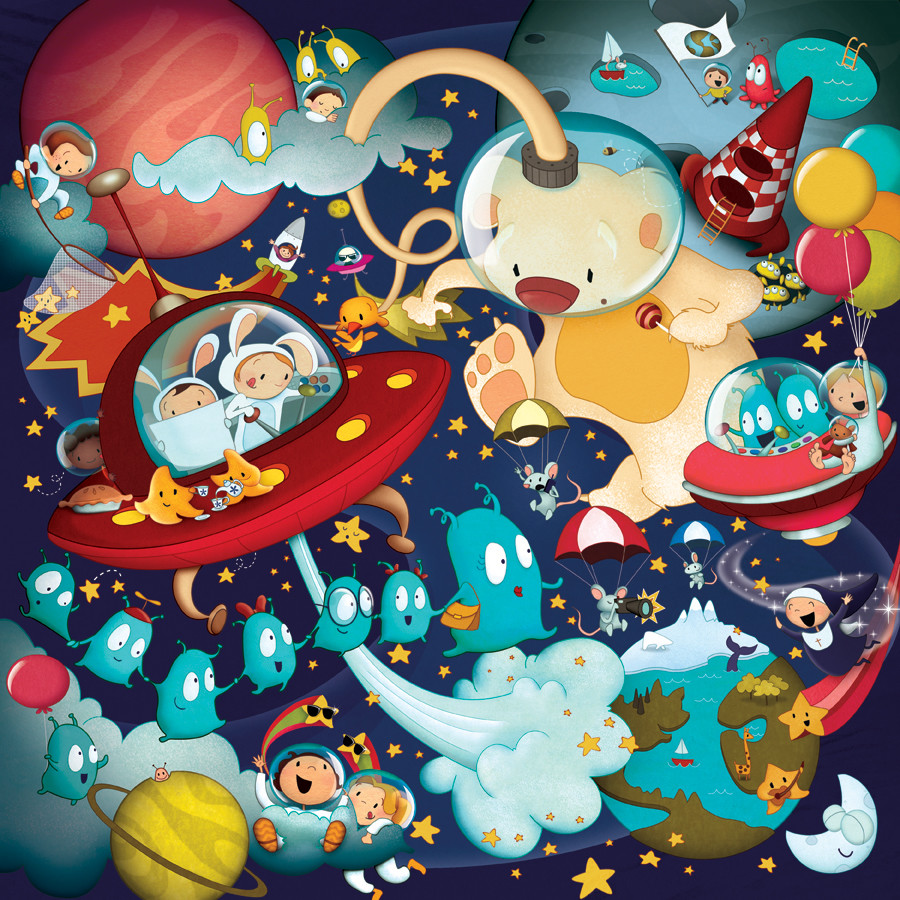 Have you visited any schools to speak or hold workshops?
Every year, I visit dozens of schools and public libraries. I love to meet young readers. Kids truly inspire me, their lively imagination often leaves me speechless. I learn so much from them, they spice up my own creativity. I have developed a workshop on empathy, where I teach kids how to identify and draw facial expressions related to different emotions. Being sensitive to others is a great asset for an illustrator, in order to make touching images.