Vicky A. Fieldhouse
Children's Illustrator
How and why did you decide to pursue illustration as your career?
Going on to Art School always felt inevitable for me because drawing and painting were what I shone at throughout childhood. I could often be found making my own stapled story books or copying Beatrix Potter illustrations at the kitchen table and later loved the peace and freedom of the school art rooms.
I was drawn to the design side of art because I enjoy the challenge of a brief, the process of finding a creative solution to a problem and the satisfaction of making it beautiful along the way. But half way through my Graphic Design degree a wonderful tutor pointed out that I was clearly most interested in turning every commercial brief into a drawing project and steered me towards illustration, even teaching me how to use watercolours properly and draw children's faces!
Taking an MA in Illustration was the hardest thing I have ever done, weeks spent drawing anything and everything trying to pursue a style that didn't yet exist, but it turned me into a professional illustrator and I found my true place in the art world.
Now I love getting all kinds of briefs where I can find an illustrative solution!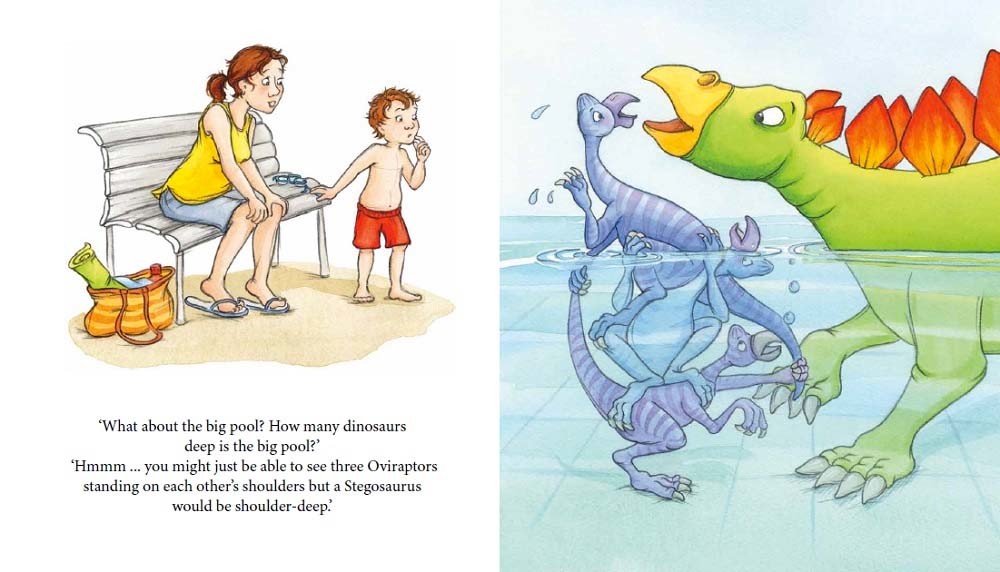 Which books from your own childhood really stand out?
In The Attic by Hiawyn Oram and illustrated by Satoshi Kitamura.
The incredible detail in Satoshi Kitamura illustrations has always appealed to me, there is so much to look at that you notice something different with every reading. I also love the twist in this story, the boy spends all day in the attic but his mother reveals at the end that they don't actually have an attic. It just goes to show that an active imagination is all kids really need and picture books can really help fuel this.
Alfie Gets In First and basically all 1980's picture books by Shirley Hughes.
The warmth of family life in Hughes' illustrations is so comforting and her characters and scenarios were just like my own English home life as a child. I have always loved her picture books and have great admiration for her as an illustrator, her pictures are really free and her characters full of movement and fantastic facial expressions.
What was your first commission as a professional illustrator?
I started out working as a Design Assistant for Next (English department store), drawing characters for children's bedding and gifting ranges. It was a wonderfully challenging role as the whole team directed me to draw all sorts of things for every product type in the homeware catalogue, so it became a sort of drawing school for me.
I really wanted to be illustrating children's books and my first freelance commission was to do just that for a story about a very cheeky monkey.
Talk us through the process of creating one of your latest illustrations or books.
For a picture book I always start with character sketches, as creating and getting to know the character informs how they will look, move and behave throughout the illustrations.
Next I draw lots of thumbnail compositions, experimenting with different layouts for each page design. I try to vary perspective and scale and then select a set of the best ideas that will flow together to create an exciting book.
Then its time for the tricky part, drawing the full size roughs while trying to maintain the energy and movement from the first ideas sketches. Sometimes I create mini roughs first as I find it easier to draw loosely when I am working small, then I can scale these up and work over the top for the final drawings.
When the publisher is happy with the roughs I can enjoy adding the colour. I transfer my drawings onto watercolour paper and use watercolour, gouache and pencil to create the final artwork or add colour digitally.
What's the best piece of advice anyone has ever given you?
My mother still likes to remind me that 'Nothing is Perfect' and so I try to enjoy and be thankful for what I have rather than wishing for something else.
As Illustrators we tend to be born perfectionists and the pursuit of the perfect line, perfect illustration or perfect style can be life long. But often it is the imperfections that make an illustration more lively and appealing. Trying to keep that lively line showing through all the way through my work is a challenge and knowing when to stop working on an illustration can be hard. Sometimes remembering that nothing is perfect helps me let go and stay efficient. Sometimes I still end up working all night anyway trying to get as close to my idea of perfect as I can…!