Sarah Alpert
Editor, Algonquin Young Readers
Can you tell us a little about your journey to becoming an Editor at Algonquin Young Readers?
I started at AYR in 2014 as an editorial assistant right out of college. I have always loved stories and storytelling, dissecting them, and figuring out how they work (or why they don't). When I graduated college I had an idea that I wanted to work in publishing and be an editor. I went through the Columbia Publishing Program, and almost as soon as that was done applied to AYR. It was pretty much my dream job. Since then, I've been here learning and growing and working with our authors and illustrators to make the very best books we can. It's a pretty straightforward career so far - and I'm lucky enough that it's mine.
Who is the team behind Algonquin Young Readers and how many titles do you typically publish per year?
AYR is led by our publisher and founder Elise Howard, who guides our whole program. Including Elise, we have an editorial team of four--three of us who are acquiring. Beyond the editors, AYR and our sister imprint Algonquin Books of Chapel Hill have a mostly intertwined staff with marketing and publicity, art director, and managing editorial. It's a really nice way to work, because we are all so connected all the time. Even after a book is edited, I can talk very directly with its marketer and publicist and stay in the loop throughout the whole publication process. We're a small team, everything has a personal touch.

Like our team, our list is small. We publish about 15 titles a year, which I love because it means we can focus on each book. With a small list and dedicated attention, everything we publish gets to shine, and we can also be mindful about repromoting our backlist. It also means we can make sure every title we acquire is a book we feel absolutely passionate about.

How would you describe the kind of illustration you are interested in commissioning?
Oh, that's so hard. I hate to say "I'll know it when I see it," but that's definitely the easiest way to put it. My taste is broad and hard to define: I love the really cute illustrations; I love the spooky art; I love the realistic, anatomical drawings. I'm drawn to watercolors, and things that evoke a lot of emotion. It's so ineffable, but I know when I'm scrolling and I stop on something that it's time to pay attention--no matter what. So I guess, I'm most interested in commissioning art that evokes emotion and makes people stop. I'm looking for art that is confident and not trying to capture any magic except to ignite its own.
Highlight some of your favourite 'unforgettable characters' from Algonquin Young Readers' list.
This is so hard, too. I love so many of our characters, and I'm not going to get to them all and then you're probably going to need to trim this or need me to trim this.

I love girls with an edge, girls who are angry, girls who are difficult, and girls who have too many emotions to fit inside their bodies - and a lot of AYR's YA protagonists fit that description.

First, there's Camila, the protagonist from Furia. What I love most is her sensitivity. She feels so much about everything she experiences and everything she wants out of life, and that fuels her passion and gives her strength. I'm someone who wears my heart on my sleeve, so seeing Camila be like that and still be tough as nails reminds me that emotionality isn't weakness.
Then there is Sarah Jac from All the Wind in the World. She would absolutely cut her nose off to spite her face, and I love her so much. That book is vivid and brutal and romantic, and Sarah Jac is the center of it. She kisses with a bite and as flawed as she is, she's probably one of the coolest people I can imagine.
On the middle grade side, Corinne from the Jumbies series is an absolute superhero, and I have an utterly incurable crush on her dad. Without spoiling anything, there is a chapter at the end of the second Jumbies book, Rise of the Jumbies, from Pierre's perspective, and it melts my heart just to think of it.


Then there are the characters that make me smile every time I encounter them. Fable from William Ritter's Oddmire books is like that. She's just so inherently chaotic but so well meaning, I love it whenever she's on the page.
When was the last time an illustrator really blew you away with their work?
I wish I had space to call out every amazing talented person I work with. When I said all AYR books are passion projects, I really meant it. I have the honor of working with Hayden Goodman on a project. It's an illustrated bestiary of African mythological creatures, and while I've only seen sketches so far, my heart stops every time I look at them. She has such a vivid and assured artistic voice.

Linh Pham is the artist for an upcoming graphic novel on our list and she's starting to deliver colored pages and they are stunning. Her sense of humor makes her work so approachable, but it's so sophisticated, textured, and detailed. It's totally unique and it makes me happy all the time.

I don't work with her, but I happened on Julie Benbassat's portfolio a couple of weeks ago and I can't stop thinking about it. It's kind of James Jean meets Jillian Tamaki? There's no point in my describing it, honestly, just go look at it. It's amazing.

Tell us about one of your award-winning titles and explain the reasons for its success.
Furia, which I mentioned above, won the Pura Belpre medal last year. It won because Camila is such a strong character with such a beautiful story, but I also think it won because it is a love letter that Yamile basically poured directly out of her heart. It's a love letter to her home city, to her favorite sport, to her mother, to the girls living (and dying) in Argentina in all sorts of situations. Maybe this is the editor in me talking, but like all the best love letters, it's honest and it's critical. It cares too much to lie about flaws or paper over cracks. Furia is a book that wants to make the reader, the world, and its characters a better version of themselves, and no one can hide from that honesty or passion. It's approachable, accessible, and hits a lot of the right notes for the market, but its success is in that passion.
What have been some of the stand out books you have edited over the years?
I have two books coming out this year which I absolutely love and cannot wait for everyone to be able to read. The first is Slip, by Marika McCoola and Aatmaja Pandya. It's a beautiful, wrenching graphic novel about a young ceramics artist searching for her own artistic voice while trying to manage her best friend's mental health crisis from far away. I think everyone has had a moment where someone they care about is struggling while they themselves are thriving, and this story speaks to that melancholy in a way that both acknowledges it and shows how you can grow despite it. Plus, it has a super-sweet romance, and I love love.
The second is Our Shadows Have Claws, which is a Latin American horror-monster anthology edited by Yamile Saied Méndez and Amparo Ortiz and illustrated by Ricardo López Ortiz. This book is stunning. It leans towards horror—especially in the illustrations—and it's got everything: zombies, cannibals, vampires, shapeshifters. It's steeped in identity and the teen psyche, using the rich veins of metaphor that are the lifeblood of mythology to show us everything from growing up and not recognizing yourself, to oppression, to grief, to the power of sisterhood and first love in the most imaginative, blood-thirsty way.
Now, I'm going to talk a bit about books that haven't come out yet, because when you work on as many illustrated projects as I do, you wind up waiting a long time for them to come out but I need to gush about them.
I'm so excited for Nancy Spector Monster Detective, which is the graphic novel I mentioned Linh illustrating. It's an absolutely zany romp through a Tim Burton-esque town full of monsters. The series focuses on Nancy, an eight-year-old detective who is hired by the invisible man to find his invisible dog. There's probably three jokes in every panel--and the story is so full of joy and love.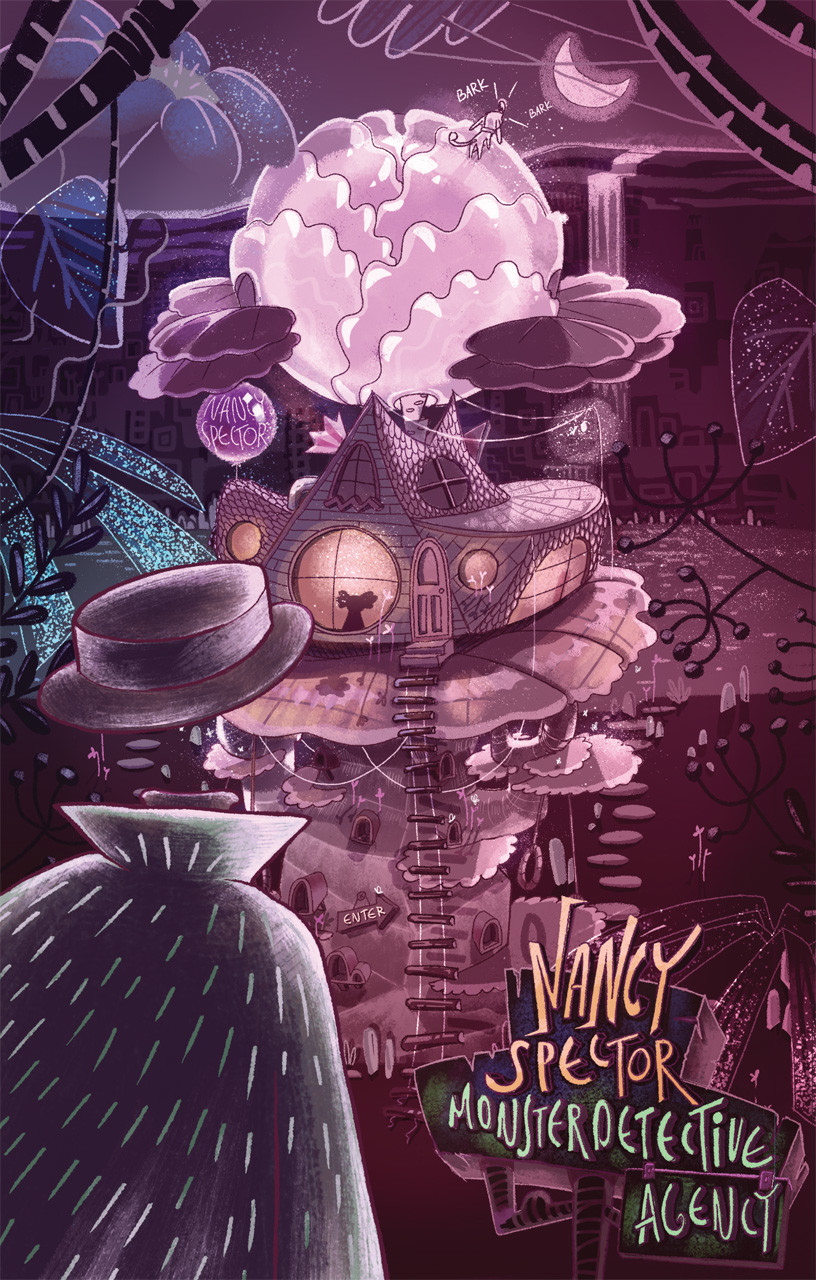 I'm also editing a powerful graphic memoir about a young woman who spent her teen years in and out of troubled teen programs. It's a bracing, introspective book that looks at the damage that comes with being labeled a "bad kid." It also holds these programs accountable for their shortcomings, especially their therapeutic shortcomings, but focuses on the author herself and everything she faced and went through.
Are you passionate about nurturing emerging illustration talent at Algonquin Young Readers?
Absolutely! Our art director is so good at discovering artists, so many of the people we work with--especially for covers--are working on their first book projects. She's empathetic and excellent at customizing the way she directs to fit each artist's needs. She's an amazing bridge, especially for people like me who have strong visual instincts, but not a fully developed artistic vocabulary. She creates such an easy workflow for everyone.
Who do you most admire in the publishing industry?
Of people I don't directly work with? I think Alvina Ling. Which might be a basic answer, but her career is just so impressive. I would love to bring as many books into the world that make as big an impact as her lists have.
How do you stay abreast of trends in the children's book industry?
I try to just follow what I like and what I want. The industry and market are influenced by so many things--movies and TV, TikTok, fashion, current events--you can go insane trying to chase it. But, I think, if you just go with the flow, and naturally follow your interests and how they develop and change, you'll find yourself naturally keeping up. Trends are part of an ecosystem that all of us live and work in, so I read the books I am excited to read, and I pay attention to them and the systems that made me even aware they exist - be it trade reviews, awards, news coverage, or even goodreads - but I don't try to follow something just because it's trendy.