Marife Gonzalez
Children's Illustrator
How and why did you decide to pursue illustration as your career?
I've always liked drawing, and painting more than anything else. Also reading stories which, if they weren't joined by illustrations, I'd take care of drawing them in my head and sometimes also on the paper.
I also felt a deep fascination within the children's world, and that very special way kids have of perceiving the reality around them, and then capturing it on their drawings. So I decided illustration would be the perfect way of linking both things, and began working on it.
Did you attend art school or undertake any other formal artistic training?
Yes. I studied a Fine Arts degree in Facultad de San Fernando, at Universidad Complutense de Madrid.
Have you always loved to draw?
Yes, drawing has been part of my life ever since I can remember. It was an important part of my childhood's games.
Who or what has been your greatest mentor?
I think the person that marked me the most in terms of how I paint was a teacher I had on my second year of university, Antonio Zarco. Not much from his personal work, but from the tips he gave me throughout his classes, which helped me understand painting better and, specially, the interaction between colors.
What was your first commission as a professional illustrator?
It was "Mi Primera Comunión" for Editorial Susaeta.
What piece of software or hardware could you not live without and why?
Photoshop, without a doubt. It's wonderful to work with collage. Layers in Photoshop give you a lot of versatility. I also like to use Corel Painter, because of the wide variety of brushes and techniques it offers.
What is your favourite medium to work with and why?
My favourite technique is collage. It allows me to blend different techniques and different materials. And, also, to play with the diffefrent parts when they aren't attatched yet. I enjoy it a lot and, in spite of starting with an original sketch, the ending result always suprises me.
How many times do you tend to draw a character until you are happy with it?
As many as necessary. Sometimes the best version is the first one, but you've always got to try to improve.
Talk us through the process of creating one of your latest illustrations or books.
My work process starts with a line sketch that will serve me as a guide.
To start off with color, I use some light colour textures that I've printed on cardboard, because I want this illustration to be very
bright.The scene takes place in the woods, so I trim different papers to make the trunk of the trees. I cut a cardobard piece for the ground, over which I paint with acrylics and crayons. I scan it, and I already have the image on my computer. From here on, I use Photoshop. I add elements in a collage way, both scanned and done digitally, to compose the scene.
Photoshop also lets me play with the layer's opacity to create transparencies.
Finally, I add the characters, which I've done aside, also with a mixed technique.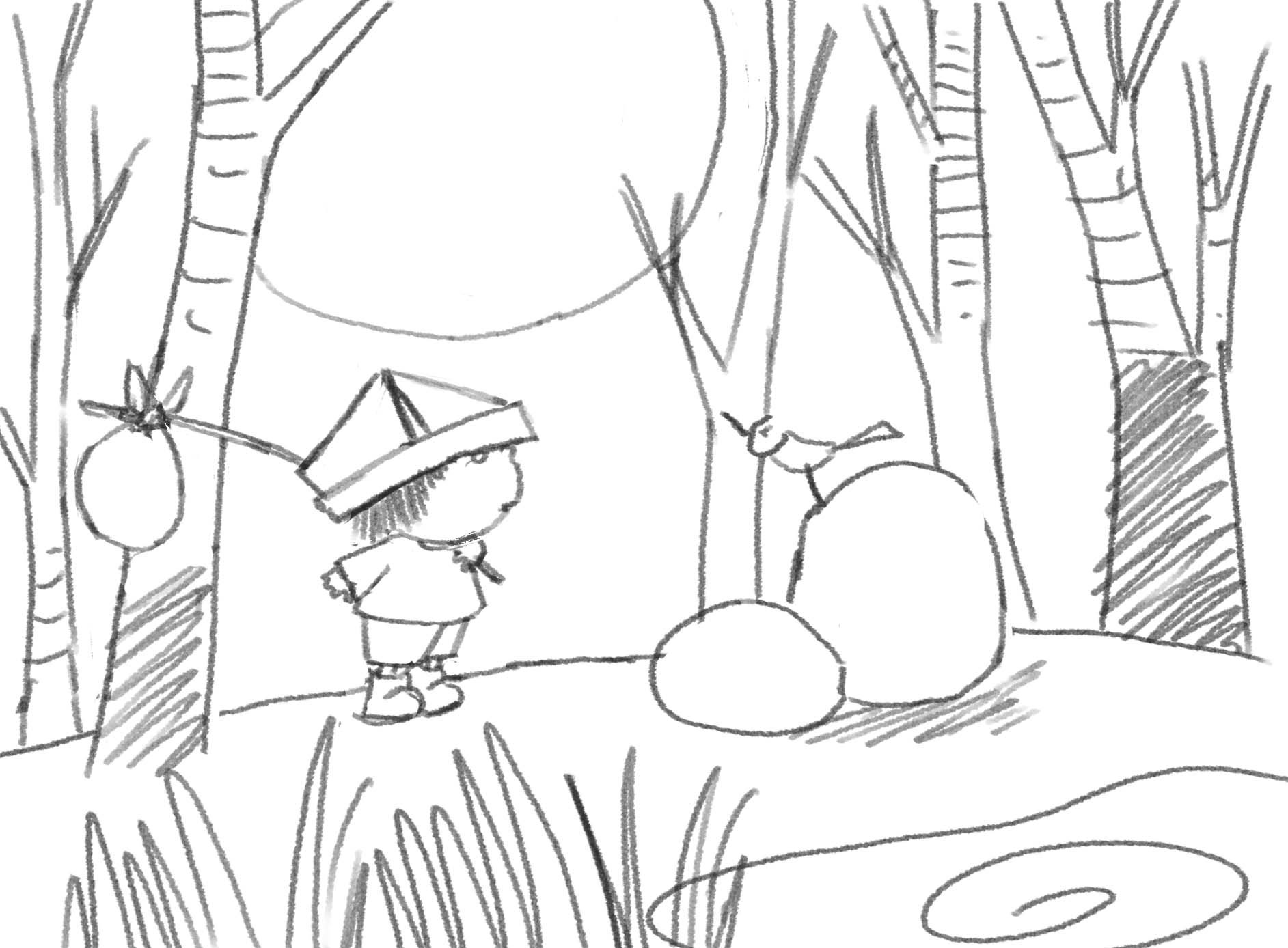 Have you ever thought about trying out a different technique or a different style?
Regularly. Lately I've been doing some tests to incorporate photography to my illustrations, and I'm very excited with the result.
What do you hope children take away from your drawings?
Most of all I'd like that they feel happy when they look at them, that my drawings help them travel, for a moment, to these marvellous universes the stories show us, where everything is possible and can happen.
What are some of your favourite subjects to draw?
Nature, in general. But mostly animals and landscapes.