Laura Ludwig Hamor
Children's Illustrator
Who or what made you want to become an illustrator?
Illustration has been the best way to bring joy filled art to children. I love creating art for my clients and sharing art with children. Illustration was a natural extension of my other work as an artist in schools and the NY consultant to Crayola. Designing creative experiences for teachers and students lead to illustrating ideas and stories. Art WITH kids, Art FOR kids.
Was creativity part of your childhood?
Creativity was a big part of my childhood. As the oldest of five I could entertain my siblings with drawing on the chalkboard in our pretend school, or using big sheets of paper to draw game boards (designing the games took longer than playing them!), or writing stories and using the back yard picnic table as a stage for our productions. My mom really encouraged me to use my imagination.
Who or what has been your greatest mentor?
The Children's writer and Illustrator community is amazingly generous. For bright colors and amazing collage work there is none other than Eric Carle. The Eric Carle Museum of Picture Book Art is a constant inspiration and a short drive my studio.
Jane Yolen has become a dear friend and is of course a phenomenal story teller. Her work ethic is unmatched and she inspires everyone around her to continue under all circumstances.
Heidi Stemple inspires as a passionate writer. Her work is reflects her love and nature and thorough research.
Frank Hodge was a local children's bookstore owner at Hodge Podge Books. Frank read my earliest manuscripts and left room on his shelves for my imagination. I was able to sort new books and have long literary conversations in his shop. Sadly, Frank and his shop are no longer with us but the impression remains.
Kids of course! Being an artist in schools means students wantt to see work and they want it fresh and new! They push me to keep creating.
What was your first commission as a professional illustrator?
My first illustration assignment was 3 dimensional clay art content for Scholastic UK magazines. One was the double page spread for a Farm issue and the other the story of Raincloud which landed on the interior and then cover of Literacy Time. Collaborating with enthusiastic art directors made these projects a lot of fun.
Describe your working technique and how you came to perfect it.
My working technique is to paint colorful thin papers. They are painted a base color, then i add texture and layers of paint for movement.
These pages are organzed by color and then when I am creating an illustration I can find just what I am looking for.
On a larger white watercolor page, I transfer a sketch in some large basic shapes, then I cut pieces of the painted papers to create the scene. I brush on a ph neutral glue to hold it all together. Then I photograph, rather than scan the art to retain the textures and shadows. Sometimes the art needs a little digital edit before it is emailed to my clients.
What piece of software or hardware could you not live without and why?
Technology illustration changes constantly. Right now I am using Procreate on my ipad pro to sketch ideas and organize storyboards. It's mobile and easy to use. I can keep an entire storyboard in one file grouping and export it as a whole. Also helpful for character development, keeping and layering changes.
Do you offer more than one style, if so – talk us through the different approaches and the audience you are targeting for each.
Creative projects offer different challenges and opportunites!
My linework is either pen & ink or digital. I use watercolor and acrylic ink papers in collage. And I can create in 3d using a soft clay compound.
Art for the youngest readers is often in bright cut papers, or dimensional clay. Art for the current middle school novel is digital line. I am lucky that I can adapt to various ages and interest levels in my illustrations.

What do you hope children take away from your drawings?
My goal is to create a book that kids want to read again and again.
I want kids to find my artwork fun and accessible. Hopefully they feel like they can create too and use their art materials, paint, glue, or clay to illustrate their own stories.

Have you visited any schools to speak or hold workshops?
As a resident artist I have visited hundreds of schools and thousands of students!
During my work as a Consultant with Crayola, I created workshops in creativity for teachers. Those programs were an offshoot of my own Creativity in The Classroom workshops for teacher development events.
Designing open ended creative programs and 500 students art projects and displays is amazing joy filled work.

What advice would you offer someone just starting out as a children's illustrator?
If you are just starting out as a children's illustrator my advice would be:
~ Build your portfolio on ChildrensiIllustrators.com! I tell this to both new and established illustrators. There is phenomenal traffic on this site and I have gotten wonderful leads year after year. CI actively markets their site, and your work.
~ Read, read, read, and absorb the art in both past and present children's books.
~ join a professional group, like SCBWI (Society of Children's Book Authors & Illustrators) go to local conferences to learn about the field as well as to meet other illustrators.
~ Support other illustrators and they will support you too.
~ CREATE WITH JOY!
Do you have a favourite soundtrack you listen to when you're working?
A favourite soundtrack while i work? Well, when I am painting pages in bright colors I like to listen to a collection of classic rock, I may or may not admit to dancing while painting.
When I am cutting and assembling a page, I need back ground noise that does not distract me.
I listen to Natalie Goldberg's How To Write A Memoir. I have listened to this same cd for many years. She has a NY accent, which reminds me of where I grew up and so she just floats into the back ground.
I am also pretty sure her writing advice has drifted into my subconcious. I find it soothing.
Are you an author/illustrator?
Yes, I am a writer/illustrator. I have manuscripts out on submission, as well as working on an illustrated middle grade novel and illustrating a series of board books.
I imagine some of my manuscripts will be illustrated by others and some with my own art. This allows me to work on multiple projects at the same time. As well as allowing me to collaborate on bigger projects.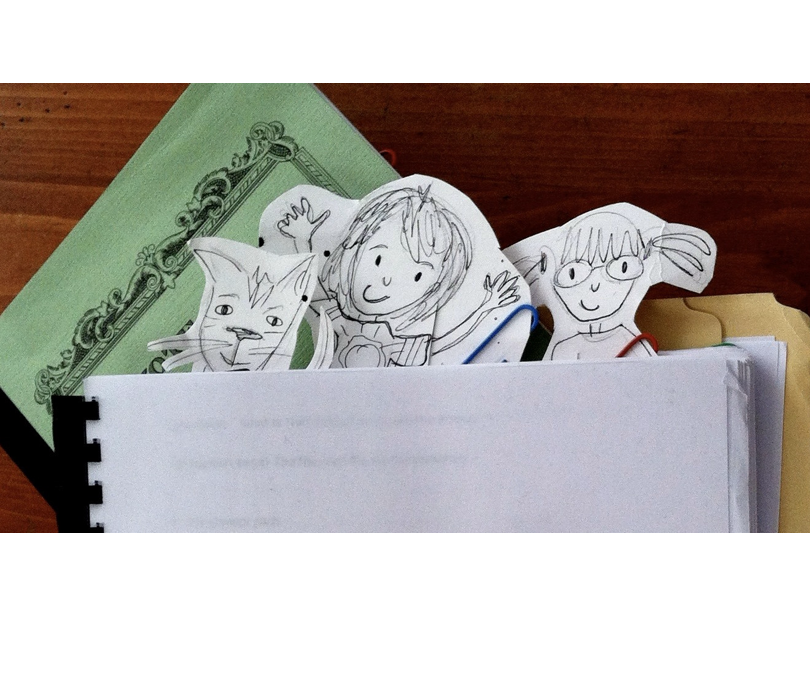 What things affect your creativity?
When I am creatively stuck in one area, it helps to be able to create something in another area.
PLAY is critically important. I can go between bold acrylic on canvas, to softer watercolors, to collage, or even 3d clay.
Having more than one creative outlet is vital to my work. It gives each medium energy and lightness. I want kids to look at my joy filled work and feel that connection.
What's the best piece of advice anyone has ever given you?
Create with JOY!!
I think joy filled art is appealing because the joy in creating it shines through. The only way I know how to do that is to play! Even with deadlines looming, the best art comes from a place of relaxed joy. My studio is a peaceful place for me. There is no wifi distraction, it is a space filled with art, FOR art. Having that space, that place to block out pressures, helps me remember the joy of this career.

When you are not drawing, how do you like to relax?
I love to paint oversize abstract artwork. Flexing different creative muscles lets me recharge. Art feeds art after all.
Working and playing with something else creative keeps art fresh.
During the co-vid pandemic, I put art aside and created 800 masks for family, friends, and medical workers. I found the sewing to be soothing as well as helpful.
Animals feature heavily in children's books – do you have a pet?
We are blessed to have had many many dogs in our family. Presently, we have three shetland sheepdogs. Gibbs, Murphy and Brodie.
We have also had many fish, and a few frogs over the years.
Take us behind the scenes and describe your studio / workspace.
My studio is located few miles from my home on a warehouse row. It's a small space compared to the industrial warehouses all around me, but large compared to my past home studio.
I have a large long first room furnished with my easel, drafting table, and light box. The drafting table is an antique from a local college.
The light box is a beautiful handmade cherry box. An author friend's dad made it for her mom, when they passed away she gifted it to me, an absolute treasure.
Being inside my studio is a bit like being inside my artwork, bright colors and filled with love and joy.
What would you say is a distinguishing feature of your artwork?
Seeing my own style was difficult. Gradually, agents and art directors all said that no matter the medium I used they could see my style was shining through.
Bright colors, textures, and depth are all features of my artwork. My characters are playful and expressive.
Even in my non-illustration paintings color and texture are important.
What's one thing that most people don't know about you?
I am pretty open book so this was a hard one to answer. What is one thing that most people don't know about me? Perhaps that I auditioned once for a lottery commercial. Somewhere there is an audition tape of me under big bright lights laughing uncontrollably. It was a big step out of my comfort zone.
How important is it for you to be part of a creative community of people?
Being part of a creative community has been vital to my growth as an artist. My creative friends help me navigate the business part of art as well. We all face rejections, editing, and doubts. Having other eyes on my work, makes my work stronger. We have built true friendships out of creative connections. I treasure each and every one of them.
If you weren't an illustrator, what would you be doing?
If I wasn't an illustrator, I would be flipping houses. I love construction and I love home design. Creating lovely home environments is definitely a side interest. I have even had the opportunity to color consult for homes. I guess no matter what, I gravitate to paint!