John Abbott Nez
Children's Illustrator
How and why did you decide to pursue illustration as your career?
After college I worked as a substitute teacher - that's where I first discovered the world of children's books and book art. I liked art in school but I hated being an 'art major'. So children's books were a whole new world that was magic - a breath of fresh air. Then one day, it occured to me that I ought to go to NYC and try to become a children's book illustrator for real. I think it helps anyone starting out if they don't have anything else to do and are starting with nothing. So I saved up and rode the bus from Seattle to NYC and my little dream came true!
Who or what have been some of your major artistic influences?
I was always drawn to the work of Maurice Sendak - a true genius - and I was lucky enough to take a class with him at the Parsons School of Design. Other fabulous illustrators (too many to remember) are Garth Williams, Mary Blair, Arthur Rackham, the Provensens, Tomi Ungerer, Jessie Wilcox Smith, Mercer Mayer, Charles Schulz, Sir John Tenniel... the list goes on and on. I was also lucky to do ghost illustration for Mercer Mayer and Rosemary Wells. That was sort of like being an apprentice.
What piece of software or hardware could you not live without and why?
Photoshop CS would be at the top of my list - since it can do so many things, and it can also look just like Illustrator. I make my books with Indesign and organize everything with Bridge. So CS 6 is where I do all my digital work. But I always draw things on real paper with real pencils and brush pens first. Paper is hard to top.
Have you ever thought about trying out a different technique or a different style?
I usually try something totally different about every week... sometimes it can drive one nuts. I notice I tend to try one thing and then swing to something totally different once I get tired of one style. It's a good thing digital allows that. For instance I spent a year working on my book 'Cromwell Dixon's Sky-Cycle' done in a historical style and based based on watercolor painting. But for my next book I very much needed to do something totally different... so I did 'The Dancing Clock' with brush pen and strong digital patterns and colors.
Do you keep a sketch book?
I start my drawings on paper - usually just plain copy paper - then scan them into photoshop. That's where the drawings come alive and change - instantly. I'm afraid I often get bored making a drawing that is 'stuck' on paper that can't be stretched, flipped, redrawn, refigured and then used in dozens of other drawings. And thankfully, with Bridge, I can instantly call up 1,000's of drawings from my 'digital sketch book'.
How many times do you tend to draw a character until you are happy with it?
I'm afraid that's a never ending task! It's like the old joke about the visiting painter who had given an old painting to a friend - only in the middle of the night the artist was discovered with a flashlight and paintbrush, up on the wall in the hallway - reworking details on the painting he had done 30 years ago! I had that experience recently, where I got to do a second version of my book 'The 12 Days of Christmas in Washington' - and because it was digital, I got to rework all the little things that I wanted to change.
What does a typical day in the studio look like for you?
Up early - drawing and painting on a project for a few hours. Then it's time for my favorite thing - a bike ride. I pack up a thermos and snack and iPad and then I bicycle off down the hill to enjoy the real world. I am lucky to have a scenic route that goes past several cafes and libraries. Then back for an afternoon working on art and bookmaking. But in truth, my day to day life would be considered totally boring by most standards... a stick in the mud - finding escape with making illustration. Very little in the way of going out. I'm a bore! lol!
Take us behind the scenes and describe your studio / workspace.
My studio is an upstairs room with an L shape - so I use one table for drawing and painting on paper - and the other part is for all the digital tools. I have a MacPro, a scanner, a wacom and printers. There's more details on my website... www.johnnez.com
Share your favourite piece of artwork from your portfolio and walk us through its creation.
Here's a step by step - starting with a very rough sketch done with the wacom in photoshop - next that is printed out and I redraw it with a lightbox on paper - then I go back into photoshop to add all the colors and patterns.
Here are several pieces with the step by step shown. I also have dozens of step by step videos on my Instagram page at https://www.instagram.com/johnnezartist/
All my secrets revealed!
Do you have a favourite picture book or recall one of the first picture books you saw?
One all time favorite is 'The Sailor Dog' illustrated by Garth Williams and written by Margaret Wise Brown. And lately I've been re-reading 'Stuart Little' - also illustrated by Garth Williams. I love going to the library used book sale - where I bring home dozens and dozens of children's books. Way too many books!
Are you an author/illustrator?
Yep... but like most author illustrators - 9 out of 10 of my written stories remain unpublished. I guess that's how it is though, and it doesn't seem to stop me from writing more. I just rewrote a fabulous new story last weekend! lol!
When you are not drawing, how do you like to relax?
Bike rides - photography - gardening - that is to say making a backyard garden and hanging out in it. I have actually grown my own backyard forest by now - and I like sitting in the woods admiring the amazing details of quiet nature. They call it 'forest bathing' I think. Note that Monet would always show visitors around his garden first - before showing off his paintings. Nature rules - art comes in second it would appear.
Which 4 words would you use to describe your illustration portfolio?
It always needs tweaking...
What advice would you offer someone just starting out as a children's illustrator?
If you can sit at a desk and just draw for 5 hours every day all alone - you might have what it takes. If you're starting out with nothing - that's an advantage - because anything you make will seem like a fortune. If you don't have anything to lose by trying to make a living making illustration - go for it!
Which project are you most proud of?
I was so thrilled to publish 'Cromwell Dixon's Sky-Cycle'. Who wouldn't be excited to create the true life story of a boy who built his own flying bicycle and flew it a mile over Columbus Ohio back in 1907? I loved everything about the project - researching all the details from the library. So much fun... a real flying bicycle!
What was your last 'lightbulb moment'?
My biggest lightbulb moment was that day at the Parsons School of Design when I realized I didn't need a degree to become an illustrator. Art directors never ask if I had a degree - so for me it was totally liberating since I had already spent years working on my own to make a portfolio - which I carried around NYC to begin freelancing. Of course now one can send postcards or just have an Instagram or childrensillustrators.com site. So much easier!
Outline your dream project.
Oh I've written it up for years... an historical mystical book - a tale akin to 'The Wizard of Oz' set in a mythical not too distant past. I think it's an illustrated novellette - rather than a graphic novel. When I hear the word 'graphic novel' my knuckles ache from the thought of all that drawing. Books like the Wizard of Oz and Alice in Wonderland are books that have just the right amount of text and pictures. So maybe some day I'll get along make my own....
How do you overcome a creative block?
Bike ride - browse the web - read new books - go out somewhere new - lots of naps - especially naps! Once I had this awful creative block in writing a story - but just a 10 minute nap and I woke up with the perfect phrase to keep the storyline going. It's all too mysterious... I don't know if there is any real key thing to do except to keep an open mind to new ideas, because they tend to pop out of nowhere just when you need them.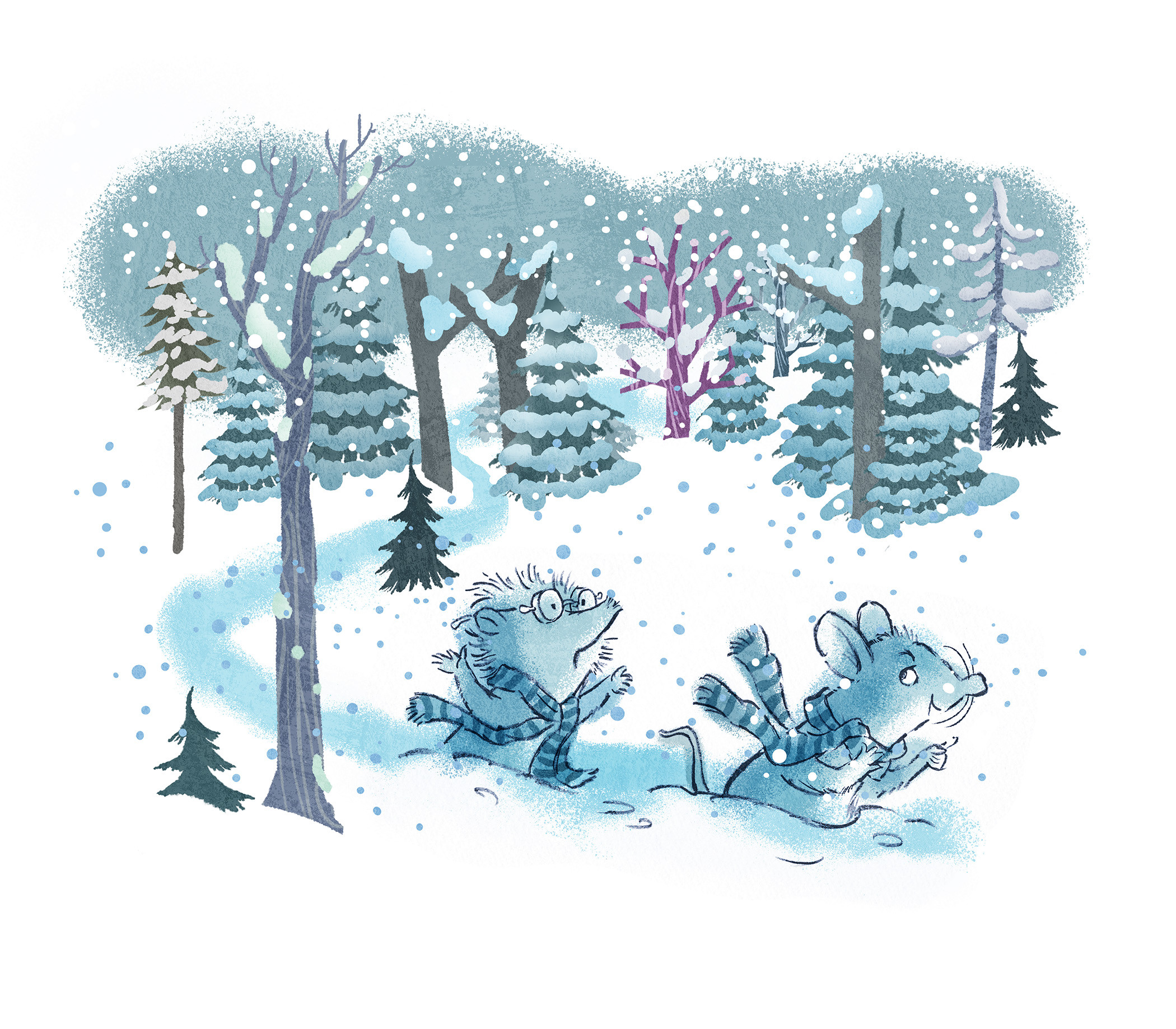 Animals feature heavily in children's books – do you have a pet?
My cat has me actually - as I wait on her like a servant - opening and closing doors. I put her into books every chance I get, yet I remain unappreciated...