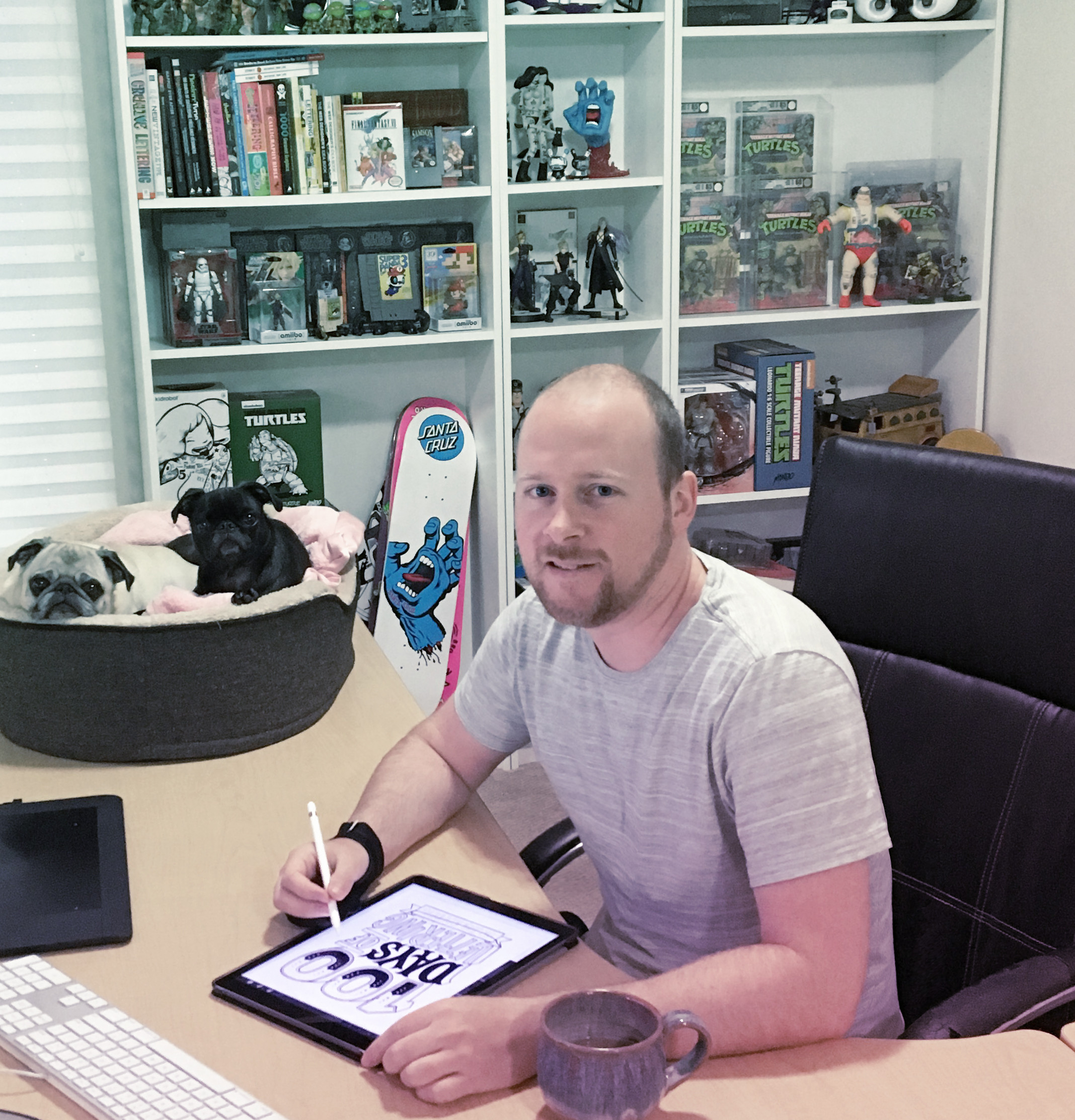 Jay Roeder
Children's Illustrator
Who or what made you want to become an illustrator?
While most kids wanted to be firemen or astronauts, I knew I'd pursue a career in the arts at a young age. I can't think of a time where illustration was not a central part of my life, so when it came time to pursue a career, I knew I was interested in a path that would allow me to regularly illustrate. Once I graduated college, I worked at several ad agencies as a graphics designer. At these agencies I would illustrate concepts to help sell the ideas in. After a number of years putting my time in at these agencies, I decided to go out on my own to focus on my illustration and lettering passion and it has been the best decision I have ever made.
Did you attend art school or undertake any other formal artistic training?
I attended undergraduate school in Connecticut at Sacred Heart University, where I graduated with a double major in graphic design and illustration.
Where do you currently live and where did you grow up?
I recently moved from Connecticut where I lived for the past 16 years, back to Minnesota, where I grew up. It's great to be near my family again, but also tough to be away from the friends my wife and I had in Connecticut.
Was creativity part of your childhood?
I like to think that my journey into illustration began at a very young age, like, I was still wearing diapers young. If you looked at my homework throughout grade school you would think that every class was an art class because I drew racecars and ninja turtles on virtually everything. It got to the point where my teachers contacted my parents to discuss my "issues," which never really seemed to faze me. I remember one such story when I didn't know the answer to a math problem, so I simply drew a Ninja Turtle head in the answer space – I still think that this was the best possible answer!
Who or what have been some of your major artistic influences?
A lot of my art is nostalgia based, and some of that has to do with memories I have of growing up. Things like boomboxes, Nintendo, and Ninja Turtles were a big part of my childhood, which is why I can't stop drawing them, even in a lot of the work I do today.
What was your first commission as a professional illustrator?
At one of the agencies I worked at before I went out on my own, I had a creative director ask me to hand-letter a headline as an option for a campaign we were working on for Subway restaurants, and I guess you could say that was my first official client work. Shortly after that, once I had left the agency scene, I was approached by Nike and American Greetings for my first real commissions on my own. This was a huge deal to me, but also very nerve racking!
Describe your working technique and how you came to perfect it.
I love describing my illustration and hand-lettering style as embraced imperfection. Being a perfectionist, it was not until I learned how to accept the crooked lines, misaligned type and illegibility that my artwork took on character and interest. As odd as it seems, these imperfections can have just as much craft as perfection. If you look at any great hand lettering artist's work, you will see these "errors" are not accidents at all.
What piece of software or hardware could you not live without and why?
It would be tough to live without my iPad Pro, Apple Pencil and Procreate software. Yikes… I'd have to go back to pencil and paper!! I recently authored my first book, and created 100% of the artwork on my iPad Pro. The book would have taken twice as long without my iPad. My entire workflow has been streamlined, and I am much more efficient these days on a tablet.
Do you keep a sketch book?
I used to keep a paper sketchbook, until I switched my entire process over to an iPad Pro, which has been a game changer for me. Sketching outside of client projects is very important for me, because it allows me to experiment more freely.
How long does it take on average for you to finish a spread, from initial sketch to final colour?
If you had asked me this 8-9 years ago, my answer would have been very different. When I first started professionally illustrating, I didn't have as much confidence in my work and would supply too many first-round options. This resulted in spending too much time working on initial sketches, and sometimes the client would choose sketches I was not as crazy about. Today, I usually send over 2-3 options for a first round, and I always send artwork I am 100% happy with, to assure the client's final selection will be one that I love. The bulk of my time is spent in the initial round of research and sketching. Once a selection has been made, the following rounds of high-resolution art creation and colorization are typically easier and quicker in terms of time spent.
What do you do in your spare time?
I have too many hobbies, haha. I am always looking for new things to do, and tend to go through phases. Lately I have been into bass fishing, cycling, and swimming.
What does a typical day in the studio look like for you?
I am a morning person, so I usually like to start my days by brewing a pot of coffee and easing into my day. I usually sip coffee while sending and responding to emails. Once my correspondences have been taken care of, I like to warm up with some practice sketches, which are usually very simple and loose. At that point I create a to-do list, because who doesn't love crossing off items from a to-do list? Sometimes I even add an item to the list that I have already taken care of, just so I can cross it off again! I focus on client projects throughout the day and try not to work extremely late, as I have been burned out in the past, and can be tough to stay creative while burning the candle at both ends.
Outline your dream project.
It had always been a dream of mine to author my own book, and I was able to cross that off the list earlier this year when I authored and released my first book: 100 Days of Lettering! The book teaches readers to hand letter throughout 100 days, starting with foundational techniques and ending with how to apply those techniques to client work. Aside from my book, I think it's always interesting to work with brands you believe in, or are a fan of.
What advice would you offer someone just starting out as a children's illustrator?
I few years ago I read an article on Milton Glaser, which had a very simple piece of advice, but great nonetheless. If anyone doesn't know who Milton is, he's an icon in the design and illustration industry; you've probably seen his work, he's responsible for the "I heart NY" and Brooklyn Brewery logos. The quote was, "Do good work." I think this simple yet fundamental advice is invaluable and can be a deadly combination when paired up with motivation. If you do good work and work hard, everything else will fall in place. Also, drink lots and lots of coffee.
Are you an author/illustrator?
I am happy to say that I am both an author and an illustrator! I released my first book earlier this year: 100 Days of Lettering. And I am currently working on my second book.
If you weren't an illustrator, what would you be doing?
Ever since I saw the movie Twister, I have always thought it would be a rush chasing storms. What a crazy job that would be!
How do you overcome a creative block?
We all need time away from the studio, and this is something that took me a while to learn. I am much better at planning out my schedule to allow myself free time away from the studio these days, and that has resulted in better and more efficient work.
Are there any children's classics you'd love to illustrate and/or re-tell?
I am a huge fan of the Harry Potter series, and am currently in negotiations to author a licensed Harry Potter hand lettering book! I am keeping my fingers crossed, as this would be a dream come true for me!