Eva Rodríguez Ruiz
Children's Illustrator
Who or what made you want to become an illustrator?
I guess it was simply my love for art and kidlit topics that made me become an illustrator! I used to be very creative as a young and teenage girl, but never thought of working in the art industry as a serious matter. This point of view changed though when I got pretty depressed during my working life as an in-house translator in Germany. I found then that art was a sort of therapy for me, and since I had that much fun working with art and stories, I decided to become a children's book illustrator. I then worked for several months on my portfolio and visited the Frankfurter Buchmesse, where I showcased my work to editors and publishers from all over the world. Happily after that experience, I found my very first client, and I haven't stopped working as an illustrator since!
Did you attend art school or undertake any other formal artistic training?
I did! Before going to college, I attended 2 years of art school at the Escuela de Artes y Oficios (Arts & Crafts school) from Jerez de la Frontera (Spain). It was there that I learnt the basic skills for drawing, painting, and working with wood.
Where do you currently live and where did you grow up?
I currently live in southern Spain, in a very small town called Puebla de Alcocer. However, I grew up in another southern Spanish city, by the sea. Maybe that's why I love to draw mermaids.
Was creativity part of your childhood?
Indeed! I was always drawing, painting, and making crafty things, such as doll houses out of shoe boxes. I remember that I used to paint these with tempera, and then played there with my dolls. It was so funny! :)
Who or what have been some of your major artistic influences?
I think that my major artistic influences are related to the films that I used to watch as a kid, mainly Disney films. I'm a huge fan of Glen Keane, the animator behind characters such as the Beast (Beauty and the Beast), Pocahontas, and The little Mermaid. I would have loved to be a traditional animator. Maybe this could be a good challenge for the future!
Which books from your own childhood really stand out?
I used to read lots of fantasy & spooky books. For me, a good book should always involve a vampire or a witch! Nevertheless, one of my favourite books will always remain The neverending story, by Michael Ende. I never get tired of it.
What piece of software or hardware could you not live without and why?
Honestly, I couldn't live now without my iPad pro, and more specifically, without the app Procreate. It has become such a great tool to work with, it's simply wonderful!
What is your favourite medium to work with and why?
When it comes to traditionally painting, I'm very fond of gouaché. I love the mix between watercolour and acrylic using this media, and how versatile it is. I also love working with colored pencils and graphite, because they give a lot of personality to almost every piece.

When it comes to working on digital paintings, I love to use procreate, and slightly retouch in Photoshop.
Do you keep a sketch book?
Yes! I keep a sketch book where I always try to paint with watercolours, since I'm trying to master this technique.
How long does it take on average for you to finish a spread, from initial sketch to final colour?
On average, I'd say I need between 8-15 hours to finish a spread. It mainly depends on the amount of details that the image has. I'm a very fast sketcher, but a really, really slow renderer.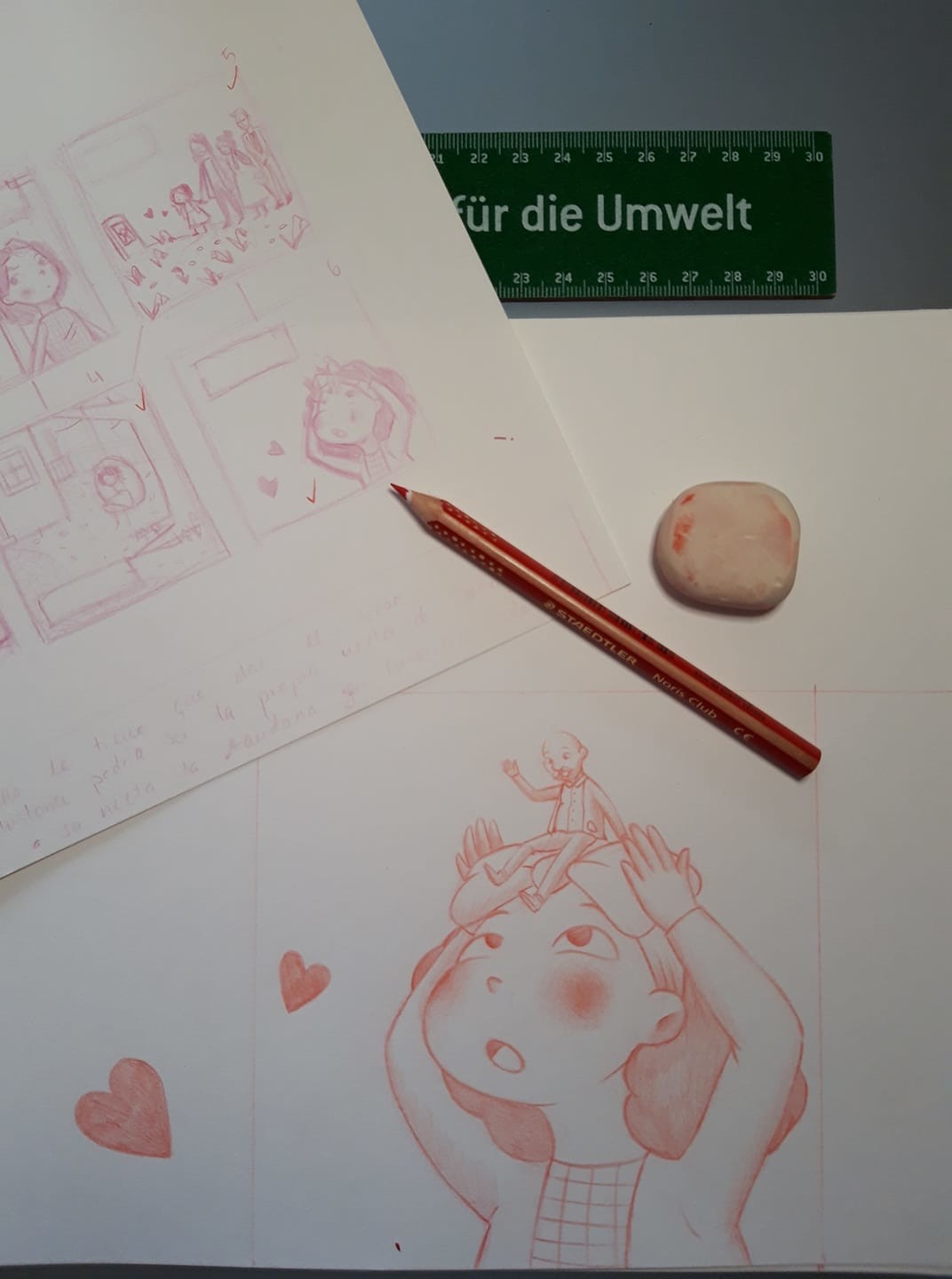 Which 4 words would you use to describe your illustration portfolio?
Whimsical, colourful, magical, and tender.
Do you have a favourite soundtrack you listen to when you're working?
Not really! I usually listen to podcasts, or simply 80s music, which is my favourite musical style. I also love to listen to Lo-fi music.
Are you an author/illustrator?
I am! This year, I'll be publishing my very first book with a Spanish publisher. It's called Ojos de Agua (Water-Blue Eyes).
What do you hope children take away from your drawings?
I just hope that kids have fun with my drawings. I like it when children smile when seeing my characters, and I hope as well that they develop their love for reading and drawing through them.
What advice would you offer someone just starting out as a children's illustrator?
Never stop practising. Practise is the key to mastering every technique and/or style. So if you really want to achieve a goal, you've got to hang in there and stick to it. Work everyday on your portfolio and don't rush. Speak to other colleagues and learn from their tips. Also, if you get the opportunity, be sure to visit a book fair and show your portfolio to every publisher. Though it sometimes can be hard, they'll give you the best advices to improve your art. In the end, they are the pros that will decide to work with you or not.
What are some of your favourite subjects to draw?
My comfort-zone drawings are mermaids. If I want to draw, but I don't know what to do, then I always end up drawing a mermaid, or something sea related. I think this has something to do with my sea nostalgia, a feeling that I face almost daily.
Are there any children's classics you'd love to illustrate and/or re-tell?
I'd love to work on a Russian folktale book. I'm really fond of Eastern Europe and their storytelling really amazes me. I'd also love to work on The Nutcracker, since it's my favourite Christmas tale ever! (And, guess what? I usually listen to The Nutcracker suite by Tchaikowsky... even in summertime!).