Darren Gate
Children's Illustrator
Who or what made you want to become an illustrator?
I think I first became interested in illustration through reading a lot comic and picture books. When I was much younger I used to draw my own slug and snail based comic adventures, which actually got up to around 150 issues! Since then, none of my work has eclipsed this triumph…
Picture credit: Slugboy Saves the World, Floris Books 2016
What is your favourite medium to work with and why?
I love working with ink and watercolour. Basically, anything that makes a mess and keeps me away from a computer for a while!!
One of my favourite qualities about working with ink and watercolour is that no 2 illustrations look quite the same. Whether it's the thickness of a line or the watercolours dry, there's always unexpected results.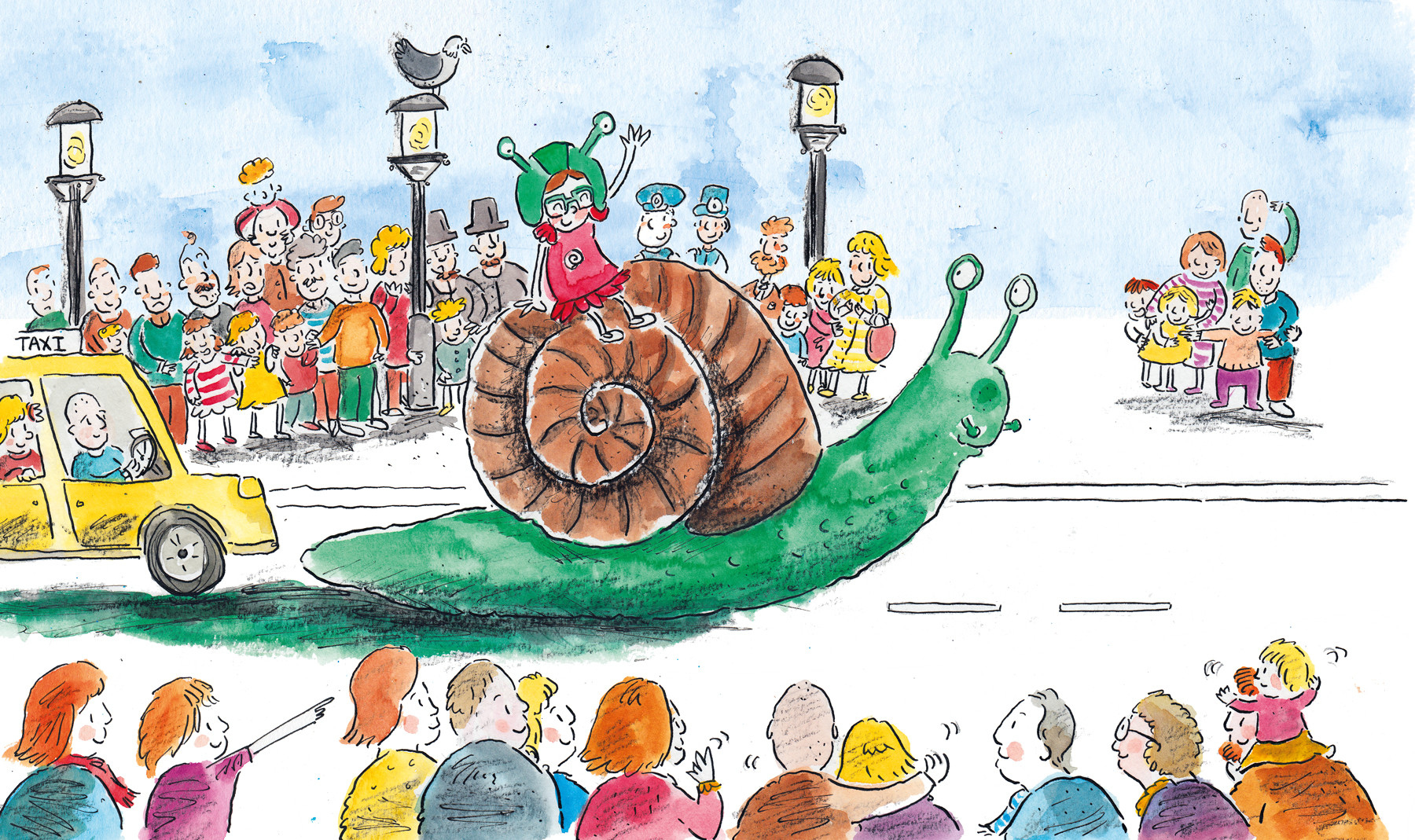 Do you keep a sketch book?
Oh yes! I always try to keep a sketchbook... I especially like to take one with me when I go travelling, I find this is the best way to capture thoughts and new ideas.
Who is your favourite children's book character and why?
That's a tough question to answer.
The first character I thought of though was Winnie the Pooh. As a character he is so special, he's is quite quiet and understated and yet he is just so iconic. I'll never forget my first memories with him.
Tell us about the creation of your favourite character from one of your books.
I am currently working on a book where the main character is a very naughty and very loud little girl. She's been so much fun to create, mainly because she is so bossy and looks pretty angry most of the time!
She has gone through at least 12 different looks, covering around 30 sheets of a3 paper and even now she continue to develop.
I feel one of the biggest challenges in picturebooks is creating characters which can continue to adapt and develop to your story as it goes on, so that instead of just adding them in to a scene they actually inspire the scene you draw around them.
A little example of character development below:
What are some of your favourite subjects to draw?
Perhaps a little bit of a typical answer, but nothing beats drawing animals! Luckily animals tend to pop up quite often in picture books so I've had a few opportunities to draw them.
Do you offer more than one style, if so – talk us through the different approaches and the audience you are targeting for each.
It's not completely a different style, however I've always felt that it is quite important to vary my work across different age ranges. When I draw for slightly older children/teenagers I try to adapt my style be suitable appealing to an older age range.
Perhaps for example the definition of character bodies may be a little more proportional, the colour palette I use may be slightly toned down. Little details like I think can make a big difference in style.
Below is an example of a new book that I have been working on, the age range is aimed at 8-12 year olds.