Chris Embleton-Hall
Children's Illustrator
Who or what made you want to become an illustrator?
I used to spend all my spare time drawing and creating things. My grandad used to paint so I would sit with him and draw. I would sit and watch Saturday morning cartoons and draw my own creations whilst they were on.
How and why did you decide to pursue illustration as your career?
I had always enjoyed drawing. I studied Graphic Design which branched off into illustration. I just love coming up with new characters and I wanted a career in something I enjoyed.
Did you attend art school or undertake any other formal artistic training?
I took GCSEs in Graphic Design and Art followed by A Levels in the same subjects. After that I went to Surrey Institute of Art & Design for a year to get a BTEC Diploma and help me decide on a direction. I then spent 3 years at the University of Lincolnshire & Humberside and got a 2:1 degree in Illustration
Where do you currently live and where did you grow up?
I met my wife at University and we live in Leicestershire with our sons and cat. I grew up in Guildford, Surrey and still go back to visit my parents.
Was creativity part of your childhood?
Definitely. I always added pictures to school projects and often had a pencil and paper in my hand at home.
Have you always loved to draw?
Yes ever since I can remember.
Who or what have been some of your major artistic influences?
I always loved Quentin Blakes illustrations for Roald Dahl and Richard Scarry. I also used to like the Asterix and Tintin comics. I used to watch Tony Hart religiously on TV when growing up.
Which books from your own childhood really stand out?
I used to love the Beatrix Potter books and also the Choose Your Own Adventure Fantasy novels
Do you have a favourite picture book or recall one of the first picture books you saw?
Bit difficult to remember but I think it would have been a Richard Scarry book or Dirty Beasts by Roald Dahl.
Who or what has been your greatest mentor?
I think that my love of drawing has been my mentor and encouragment from my parents and grandparents growing up kept me going.
What was your first commission as a professional illustrator?
My first commission as an illustrator was a black line drawing of a red squirrel for a local author and a mural of a map of surrey in the reception area of BBC Southern Counties Radio. I had to give a radio updates during the process and when it was finished they got Tony Hart to unveil it live on air.
Describe your working technique and how you came to perfect it.
I always used to work with pencil and paper and then final artwork in Gouache but since the advancements in digital art I have adapted and now draw on a tablet straight into the laptop and colour using Photoshop. I dont' think I have perfected anything yet as always exploring ways to improve my technique.
What piece of software or hardware could you not live without and why?
I would say Phtoshop and my Wacom Tablet and they allow me to do so much.
What is your favourite medium to work with and why?
I still like a pencil and paper because of the feel of it but I do like the pen tablet
Do you keep a sketch book?
I have a notebook for ideas and initial thumbnails.
Tell us about the creation of your favourite character from one of your books.
I did an illustrated book for Didi Rugby which was fun. I got a lot of creative freedom and had to turn their mascots into the main characters aswell as come up with friends for them
How many times do you tend to draw a character until you are happy with it?
I will just keep amending bits as I go. As i work digitally, I will maybe resize characters proportions until I am happy with them.
Which project has been most instrumental in developing your personal style?
I don't think any one project has dictated my style, it has just developed.
Talk us through the process of creating one of your latest illustrations or books.
I recently illustrated a cover and page for an author who had a story idea he wanted to sell. It was about a girl addicted to fizzy drinks. We talked through a rough idea of what he wanted the girl to look like. I then showed him some rough drawings which were then slightly amended. I then did a couple of colour ideas. He was pleased with them.
Do you offer more than one style, if so – talk us through the different approaches and the audience you are targeting for each.
I try to stick to one style that I enjoy doing. My main style has changed over the years as I moved from hand drawn to digital art. Recently I had to change my style slightly to be suited for use in illustrator and for animation.
Have you ever thought about trying out a different technique or a different style?
I have changed techniques over the years. I enjoy my current style but I imagine I shall make tweaks to this in due course.
How long does it take on average for you to finish a spread, from initial sketch to final colour?
This all depends on the deadlines and detail but have varied in the past from a couple of days to a week.
What do you hope children take away from your drawings?
I just want kids to enjoy my artwork and hopefully influence them to start drawing.
What do you do in your spare time?
I used to draw in my spare time but now I do it as a career I look to other things. I love walking and nature. I also enjoy the cinema and video games when I find time. I have recently started Yoga classes and go swimming occasionally.
What is your favourite children's book and why?
I think this is very hard to answer. I have always liked Alice In Wonderland and the Narnia series. I also enjoyed Harry Potter when they were released.
What does a typical day in the studio look like for you?
I used to work from home for 10 years but I found this a lot harder when our children came along. I found a shared workspace in Leicester's Cultural Quarter which is above an independent cinema. I usually get the bus to the studio and start around 10am. I will then work a varying amount of hours depending on how busy I am. I try and have a quick walk out at lunchtime.
Take us behind the scenes and describe your studio / workspace.
My workspce is run by LCB, a creative hub of Leicester City Council. I share the studio with other creative freelancers which is great as we have a coomon interest and it is nice to have other people around. I have a large desk with my laptop and second screen on. I have also added a few plants in around my desk to make it feel more homely. We have a sofa and fridge in our studio and share a kitchen with other offices on the floor. Above us are flats and below is an independent cinema and cafe (great coffee) I don't think I could go back to home working.
What would you say is a distinguishing feature of your artwork?
I would say the eyes of the characters are a main feature of my style
Where do you get the ideas for your characters?
They just seem to come to me most of the time. I remember certain people or elements I have seen and create something from them.
Share your favourite piece of artwork from your portfolio and walk us through its creation.
This is one of my favourite folio pieces which I sell as a print and card in my Etsy shop. I love cats and have always had one or two at a time. I tried to include as many colours and breeds as possible in this illustration. The ginger and white cat and the tabby are based on cats I used to have whereas the black one is based on my neighbours cat.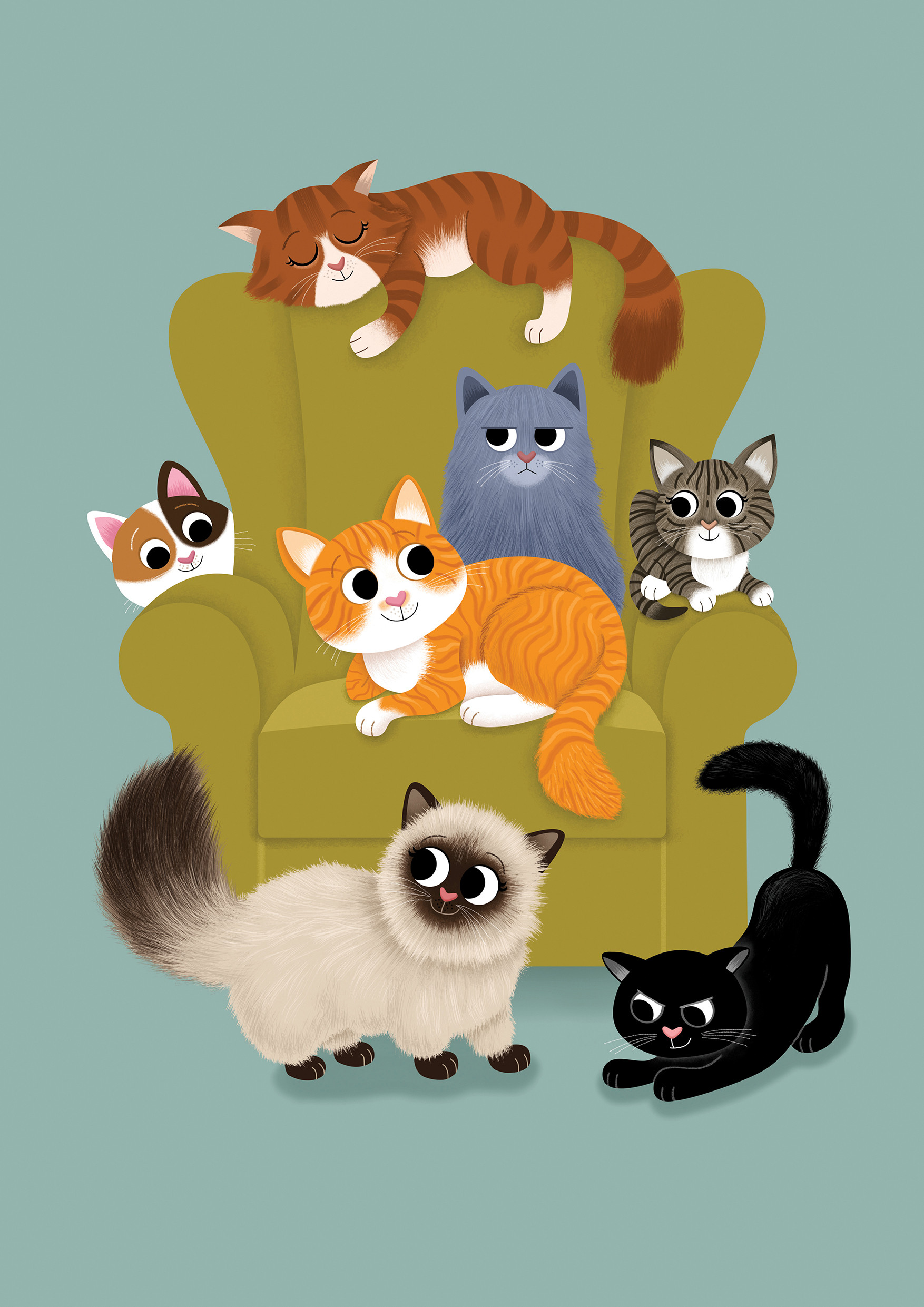 Who is your favourite children's book character and why?
I always liked Willy Wonka as he was a bit of an enigma but also like Gandalf from The Hobbit. The White Witch from The Lion, The Witch & The Wardrobe was brilliantly evil too.
Which 4 words would you use to describe your illustration portfolio?
Varied. Colourful. Consistent. Fun
Outline your dream project.
Writing and illustrating my own childrens book or illustrating a book for someone famous.
Which area of children's publishing excites you the most?
I always love picture books but I like what is happening with interactive books and apps
Have you taken part in any speaker events?
I once took part in a local creative event for schoolkids where different creatives spoke about their work and gave them an activity to do. I talked about my career and took along some sample books. I also got the kids to draw different facial expressions on blank heads.
Have you visited any schools to speak or hold workshops?
I once ran an after school drawing club at my son's school giving the kids a different activity each week from drawing animals to creating fantasy creatures. During lockdown I set up a Youtube channel with simple drawing tutorials for kids to follow. You can view that here: https://www.youtube.com/channel/UCzlkS0YkKv_e3Oq8CnqbBGA?view_as=subscriber
What advice would you offer someone just starting out as a children's illustrator?
Be persistent. It is a job of ups and downs. It isn't always smooth sailing but if you have the talent and enjoy what you do then stick with it.
Do you have a favourite soundtrack you listen to when you're working?
I love film scores especially Hans Zimmer and John Williams. In the shared studio we sometimes have the radio on playing anything from 80s to classic rock. I also like listening to comedy podcasts. Sometimes I will listen to shows like Friends or Gavin & Stacey.
Are you an author/illustrator?
Not currently but I hope to be
What things affect your creativity?
Walking and music definitely get my creative juices flowing. Fresh air is a definite plus for clearing the cobwebs.
What's the best piece of advice anyone has ever given you?
Don't be too hard on yourself. Make time for you.
What was your last 'lightbulb moment'?
That is tricky. It has been a while. Probably when I decided to set up my Etsy shop.
What makes a good children's book?
Memorable characters that you can relate to plus some humour.
Which project are you most proud of?
I have been proud of the recent animated work as it was challenging and new. Also the book I did for Didi Rugby as I designed the layout and first book I have given my advice on.
When you are not drawing, how do you like to relax?
Walking, cinema, watching TV. Also started meditating more often.
What's one thing that most people don't know about you?
My great uncle used to be Chairman of British Airways and my mum's cousin was Geraldine McEwan (Miss Marple, The Witch from Robin Hood: Prince of Thieves)
How important is it for you to be part of a creative community of people?
Very important as you can share advice and experience. People seem happy to talk about the ups and downs.
If you weren't an illustrator, what would you be doing?
I often wonder that. I think it would have to be something to do with nature or the outdoors.
How do you overcome a creative block?
Take a break, go for a walk or a drink. Do something completely different.
What are some of your favourite subjects to draw?
I like drawing birds and animals. I also quite like drawing robots too.
How do you get your creative juices flowing?
A walk in the fresh air, a good film soundtrack or seeing a new kids book in the shops.
Are there any children's classics you'd love to illustrate and/or re-tell?
I would quite like to illustrate Harry Potter or King Arthur. Always loved tales like Robin Hood and The Knights Of The Round Table.
Animals feature heavily in children's books – do you have a pet?
Yes we have a one and a half year old tabby cat called McVitie. He had a brother called Dodger who sadly passed away last year. He was only 4 months old. Before that we had two cats called Merry and Pippin named after Lord Of The Rings characters. I think I will always have a cat.